Taking the Slow Train From China
January 10, 2020
IN DECEMBER 2015 it was time for me to follow Colin to his new job in Hong Kong, which meant leaving my job in Beijing. I was travelling alone and decided to use my favourite means of transport – the train.
A Chinese colleague gave me a handwritten note explaining what I wanted, and I trotted off to the railway booking office. I soon had a 156 yuan (£17/US$22) ticket for the 1,538-mile and 24-hour journey on the Beijing-Hung Hom Normal Train. Simple as that.
Then came the naysayers. First, Colin didn't like the idea of me making the overnight journey alone. Then a male colleague told me that when he made the journey it was "the single worst experience" in his life. Having someone say that to me the night before I was leaving was one of the single weirdest experiences of my life.
After more worried looks and "Oh, really?" reactions it dawned on me; most of these people had never done the trip. I found that odd. It's much cheaper than flying, and since I was packing up for good, my luggage went along with me for just a few pennies more.



I hired a trusted and English-speaking taxi driver that I knew to take me from the home I was leaving to Beijing West Railway Station. Good move. The station is vast and chaotic, and finding the correct platform is a triumph of navigation. Immigration is done before you get onto the platform, so the area around the Hong Kong train is completely empty. Unless you've been cleared, you can't get near the train. 
No tearful or romantic platform farewells here. A lady I met in the railway café gave me two apples and an orange, the first hint that everyone except me knew the restaurant car wasn't operating for this trip.
When I got to my allotted bed in a four-person cabin, the presence of a pink suitcase reassured me my fellow traveller was probably a woman. Did I mention that you can't chose who you share with? The woman at the booking office had pointed this out, and I had naïvely assumed everyone would realise my name was female and book the other beds accordingly.
It was a concern I had shared with my taxi driver. I settled into my seat, noting a spittoon the size of a large baking tray and praying that the other two beds would remain free. Then I spotted my taxi driver on the platform. How had he managed that and why was he there? He was deep in conversation with a female train guard by the time I went out to see what was happening.
"I said you don't want men in your cabin," he told me. Later that night the guard brought a little stool and sat outside my cabin. She was still there when I woke in the morning!



Then came the moment that I love – leaving the station. Suddenly, it's time out. There's nothing you can do except experience the journey, and it's about as happy as I ever am. Twenty-four hours of staring out of the window and sleeping was ahead.
Bye-bye Beijing, past the pagoda I'd seen dozens of times, then out further and the countryside at sunset and an almost mystical church whizzed by. A walk the length of the train was boring, but the only exercise available, and at one stop a train drew alongside with a functioning dining car, which made me envious.
Our train's diner was open only to sell packets of snacks and, let's say, it wasn't the most welcoming atmosphere when I paid a visit. It was the only disappointment of the trip, because I'd heard the food served is pretty good.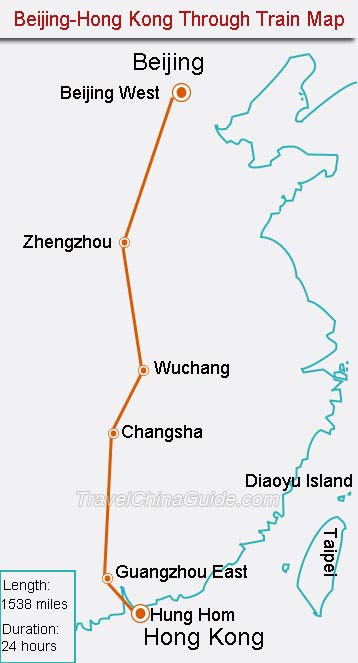 The slow train route

The route goes through Zhengzhou, Wuchang, Chengsha, Guangzhou East, then into Hong Kong, with several enormous, brand new, clinical and largely empty station stops in-between. I was told that villages along the line had been demolished, and from your seat, towns in China certainly look like they were built yesterday – or at most in the past 15 years, which of course is largely true.
A lot of it went by in pitch darkness – the train runs from 1pm to 1pm – and I slept like a baby for a straight eight hours in the surprisingly comfortable top bunk.
The sole distraction was the occasional sound of weeping from my only cabin-mate. She had made it clear she wanted to do the journey in her own bubble and I didn't attempt to cross the language barrier so never discovered what was making her so sad.
By the time I woke up, we were trundling through southern China and even in the cosy cabin you could tell the temperature had risen. We'd left a f-f-freezing Beijing  and now I could see banana plantations, exotic flowers, and people in T-shirts and light jackets, not hats, scarves and quilted down coats!
A cold wash at a steel sink, sharing with another female passenger and speaking in sign language, wiled away half-an-hour and soon a guard gestured to his watch to tell me an announcement in Chinese meant we were nearing Hung Hom.
Being a worrier by nature, my thoughts turned towards my luggage. But when we pulled into the station, at two minutes past 1pm, there it was waiting for me, clearly labelled and strapped onto a trolley for me to push out to the taxi rank. One adventure was over, and now a new one was about to begin.
Verdict: Cheap and comfortable way to get to or leave Beijing. The train leaves at 1pm sharp every other day from Beijing, returning from Hong Kong on the other days.
Top tip: Travel with three friends to ensure you're sharing the cabin with people of your choice, or buy up four tickets. It's still cheap as chips. Oh, and get someone who speaks Mandarin to check that the dining car is operating.
Top photo: My cabin, complete with spittoon – comfortable for two, cramped for four.