Ten Must-See New Things in Dubai
May 9, 2020
THERE'S always something new to see in fast-moving Dubai – if you haven't been there for a while then you'll certainly find a lot has changed.

The biggest difference we noticed when we visited in February was the large number of new towers being built. Of course Dubai is known for its many skyscrapers, including the world's tallest, the Burj Khalifa, but  the rate of development now seems frankly out of control.
A few years ago Downtown Dubai was a smart, largely low-rise district made up of attractive sand-coloured, old Arabia-style apartment blocks. The soaring Burj Khalifa provided spectacular contrast, and there were a few other towers.


Downtown Dubai towers overwhelm the opera house

Now high-rises are going up all around the site, spoiling the ambience of what was formerly a very attractive residential area. We booked a holiday let in one of those original  apartments and found that it was dwarfed by the concrete shell of a huge development next door known as Imperial Avenue. During a stroll through the adjoining Business Bay district and on taxi rides through other areas we saw many more half-completed towers.
I would have described it as a construction frenzy, but in fact the rate of progress on most of the sites was distinctly stately, with cranes standing stationary and only a few overall-clad workers to be seen. They seemed to be in no rush to complete all those projects.


Towers loom over low-rise Downtown apartments
We couldn't figure out who was meant to buy apartments or rent office space when all the buildings are eventually completed. Whole new communities are being built too, such as Port Rashid and Bluewaters Island featured below, and the Akoya Oxygen development out in the desert. It seems Dubai is never happy unless it's on the brink of a potential property bubble.
Sue met up with an old friend for coffee, a life-long Dubai resident, and she was equally mystified by the surge in construction. The flood of new homes on the market has hit values of older – ie those built ten years ago – properties. Buyers would rather move into a smart new home than one that has been exposed to Dubai's harsh climate for a number of years.
Once we got over the shock of all this, we set out to visit some of the new attractions that have been built in the years since we left Dubai in 2013.
Top photo: Can you spot the Burj Khalifa? The world's tallest building is overwhelmed by new towers.
Coronavirus update: The QE2 Hotel has announced that, "in light of recent global events", the ship and all on-board facilities will close until Sept. 1. Other attractions featured in this post have been affected by the pandemic – check with the operators for details. 
1) Queen Elizabeth 2 Hotel
I'D BEEN looking forward to staying on the Queen Elizabeth 2 ever since it was announced that Dubai planned to buy the famous liner when it left service in 2008 and convert it into a floating hotel.
Plans for the ship remained in continual flux in the years that followed her arrival in Dubai, but in 2018 she finally welcomed guests on board.
Sue and I booked a deluxe room which had two oval-shaped portholes with views across Port Rashid, the old Cunarder's new home. We were pleased with the room, which was a fair size and had a large, comfortable bed.
The refurbishment was tasteful and restrained, and original features such as the distinctive sink in the bathroom had been retained. There were some odd economies, though – the toilet seat was a cheap plastic affair that needed replacing.
We spent two nights on board in February 2020, paying for our stay ourselves. Work on transforming the ship from ocean-going liner to static hotel and events venue was continuing. Some of the public areas had been kept more or less as they were, while others were being repurposed.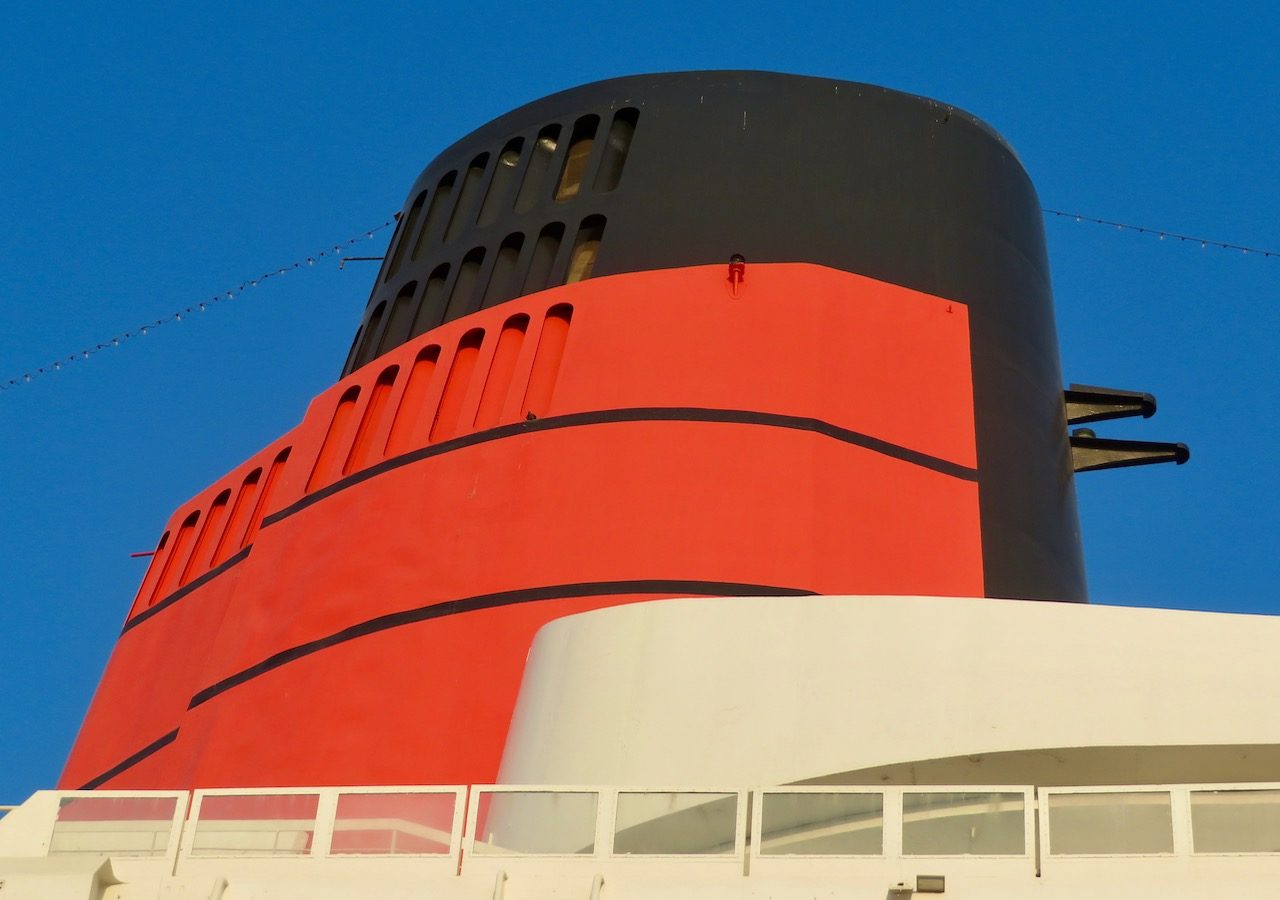 QE2's famous funnel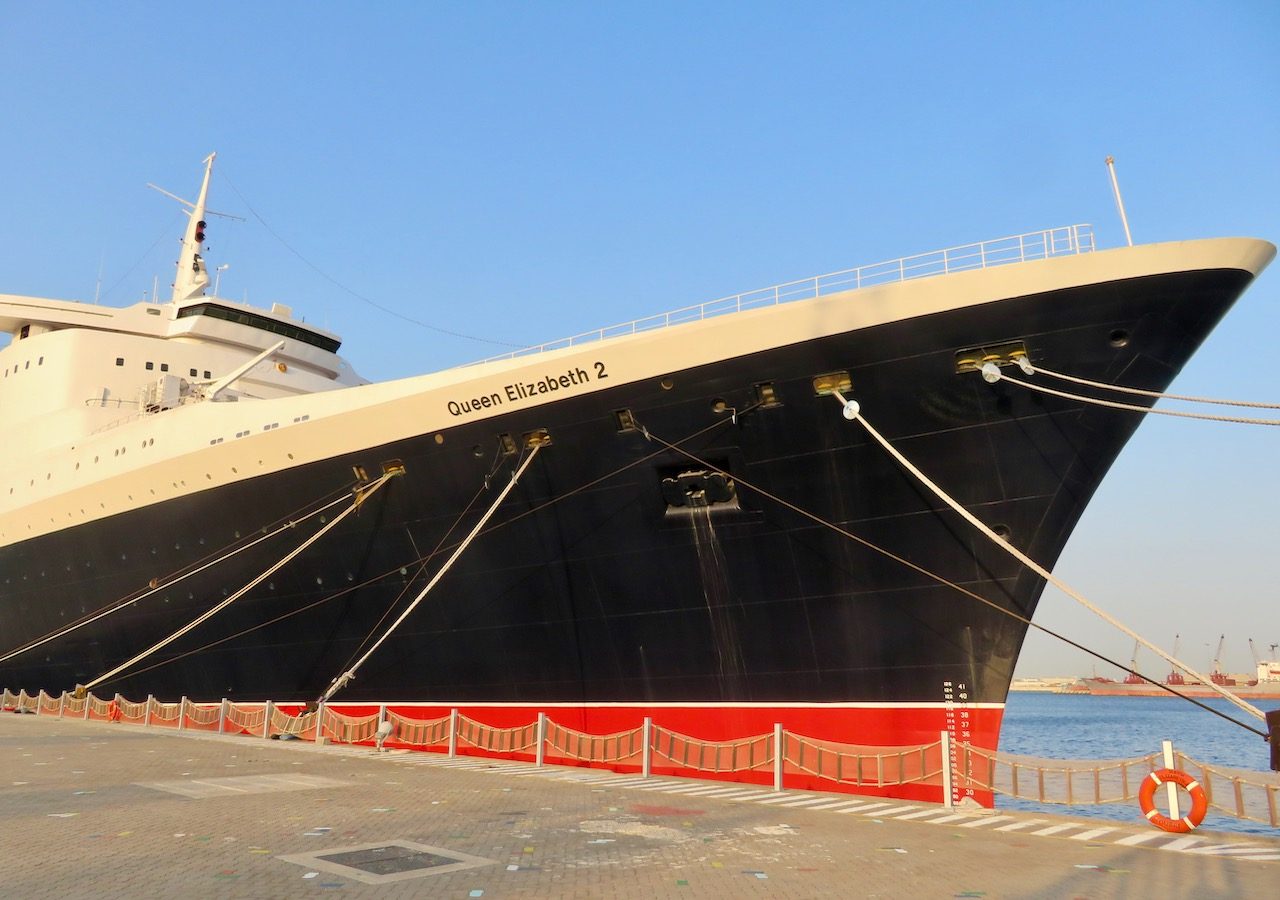 The Queen Elizabeth 2
2) Port Rashid
The QE2 is a key part of the redevelopment of Port Rashid, Dubai's old commercial docks which fell into disuse with the opening of the vast Jebel Abi container port.
A new marina is already packed with pleasure boats, waterside shops and restaurants are taking shape, and inevitably there are plans for lots of apartments. Cruise ships call at the port's terminal.
Dubai, the world's fifth longest superyacht, is often moored in the port – it belongs to Sheikh Mohammed, the emirate's ruler. Another vast yacht, the Russian-owned Luna, is a frequent visitor.
We enjoyed a stroll around the site, admiring the many amazing boats. Along one side of the port basin stands a row of containers that have been converted into cafes, marine equipment suppliers and other businesses. It was an attractive sight with a great outlook across the marina, and the whole place had a pleasing, relaxed feel.
We were surprised to find the QE2's lifeboats and tenders lying in the sand along the side of a road, their condition deteriorating in the harsh Dubai climate. They used to hang, looking shipshape, along the liner's boat deck and were an integral part of her design.
Verdict: An appealing place to visit, particularly if you like boats.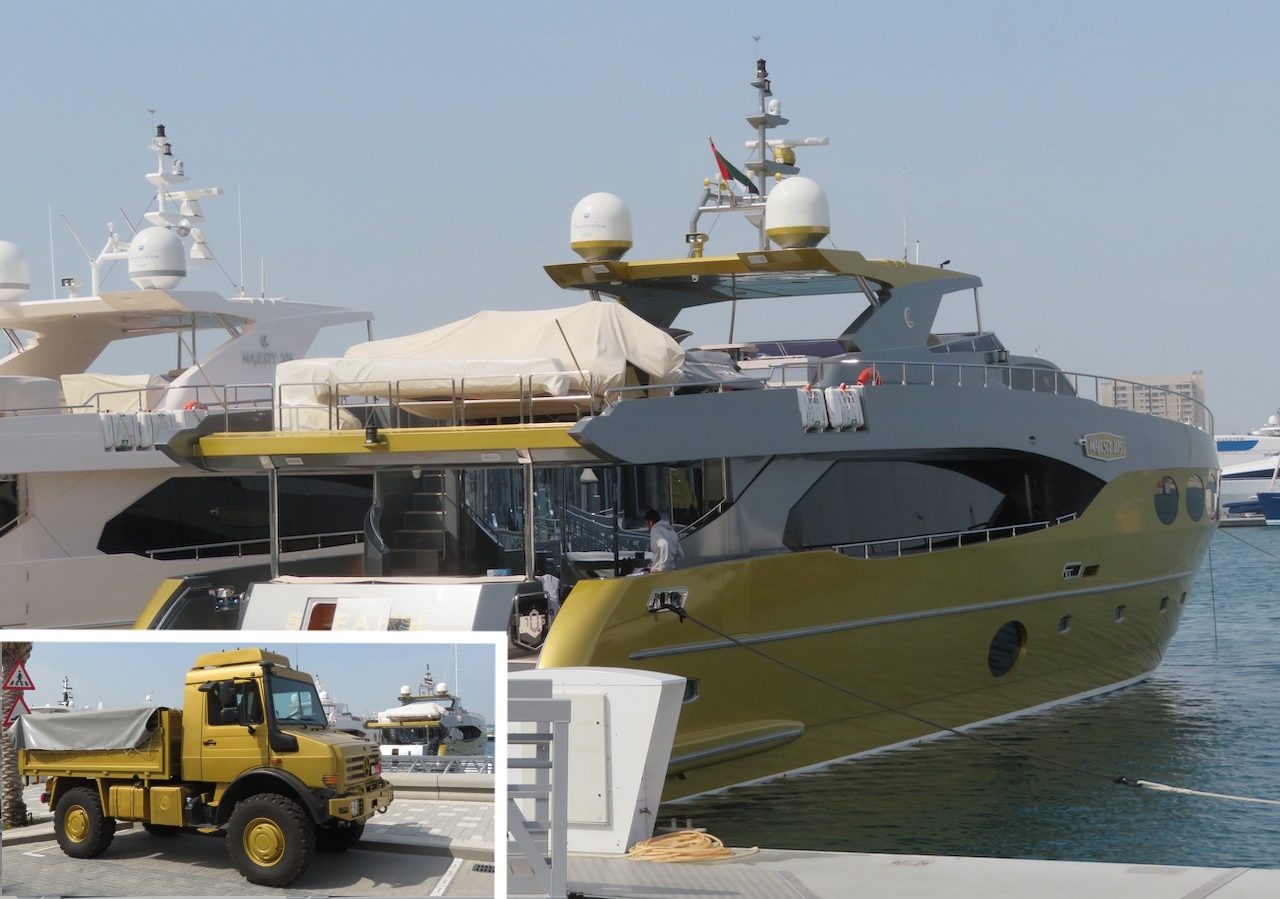 Gold yacht and matching truck  
3) Dubai Frame
DUBAI is famous for having lots of the world's biggest things. It has the world's tallest building, the world's biggest (by one measure) shopping mall, the world's biggest UAE flag, and – a particular favourite of ours – the world's biggest acrylic panel.
With all this, there was clearly a risk that they would soon run out of new world's biggest things to boast about. But don't worry, they've come up with a new one – the world's biggest picture frame. The Dubai Frame is 150 metres high and 93 metres wide.
It seemed a bit of a joke when it was announced – why would you build such a thing? Some wondered whether it would one day contain a giant picture of Sheikh Mohammed, Dubai's ruler.
The frame stands in Zabeel Park, a large green space bisected by a highway at the end of Sheikh Zayed Road, and can be seen from across the city. It is is covered with looping patterns and has a shiny, slightly tacky golden finish, though it looks striking at night when it's lit up.
The visit is divided into three parts. The first, an exhibition at ground level, depicts Dubai's past. The viewing area at the top of the structure lets you look out at the city as it is at present. And the third section, once you've returned to the ground, explores its possible future development.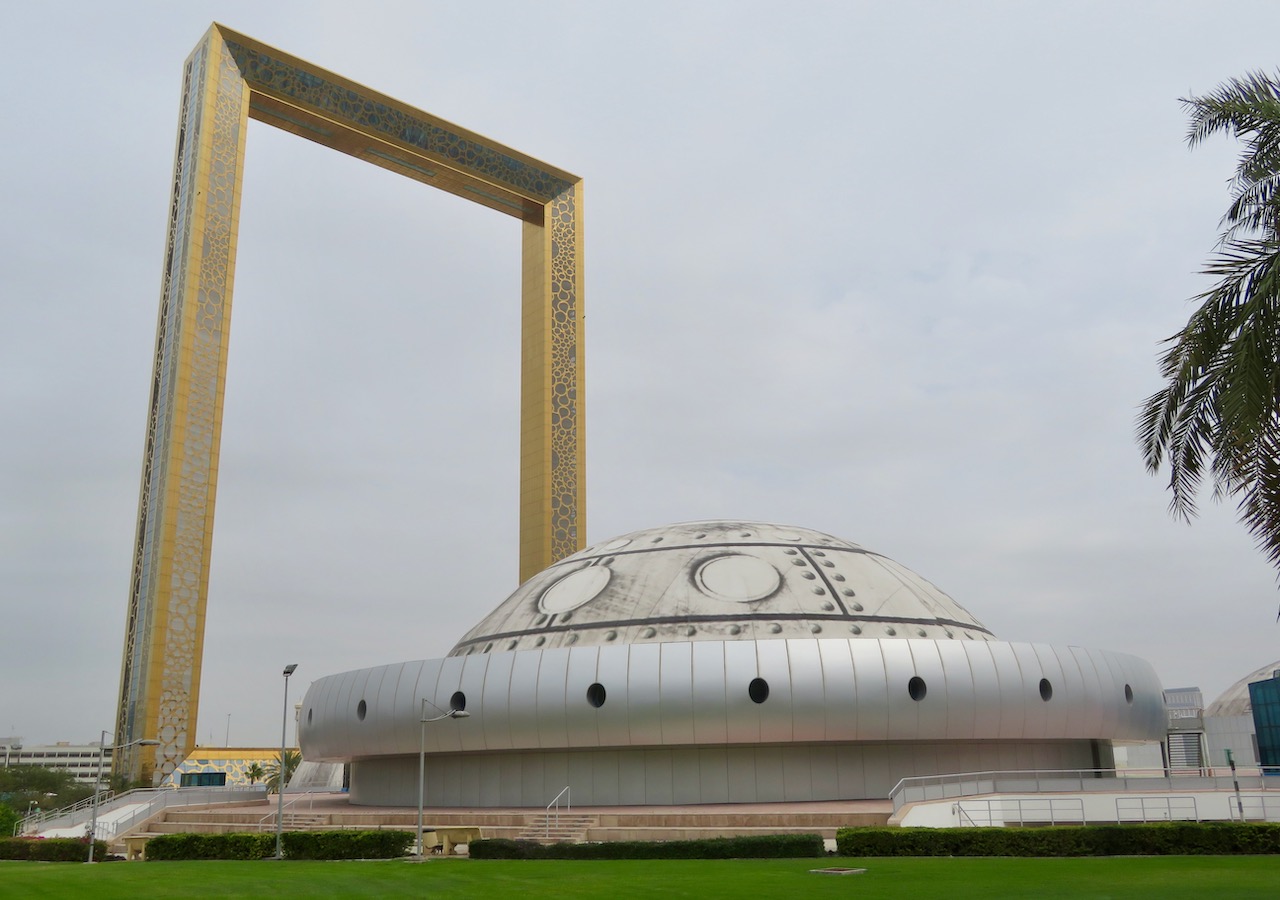 Another Stargate dome  
4) Bluewaters Island
AN ODD one, this. It's an artificial island in the Gulf waters offshore from the sand-coloured towers of Jumeirah Beach Residence. There are lots of stylish apartments, but most looked unoccupied.
Dubai has long worked on the "build and they will come" principle, but it doesn't seem to have worked here yet despite the island's marketing slogan – "where urban buzz meets island calm".
There's a hotel, a resort and and a residence all run by Caesars Palace, the Las Vegas casino operator – an odd choice, since gambling is banned in Dubai. Towering over everything is a giant observation wheel, at 250 metres the tallest in the world. Ain Dubai – or Dubai Eye – is due to open later this year. However, there is still quite a lot of work to do. While the wheel and the frame that supports it are in place, the capsules designed to carry 1,900 passengers at a time are nowhere to be seen.
We stopped off at the Caesars resort which, like most up-market hotels in Dubai, is a very swanky affair. We had a coffee on a terrace overlooking the pool and beach and quickly noticed a problem – the island is close to a runway that projects out into the sea. A small plane carrying skydivers continually takes off and lands, creating a lot of noise as it whizzes past those reclining on the pool loungers on its way back to land.
We took a stroll past those smart but empty apartments. Some look out towards the desalination plants and power stations at Jebel Ali – not the prettiest of views.
There are a number of shops, restaurants and cafes, but not many people. That's sure to change once the wheel opens and starts attracting hordes of tourists, but for now this island seems a bit dead.
Verdict: More calm than buzz.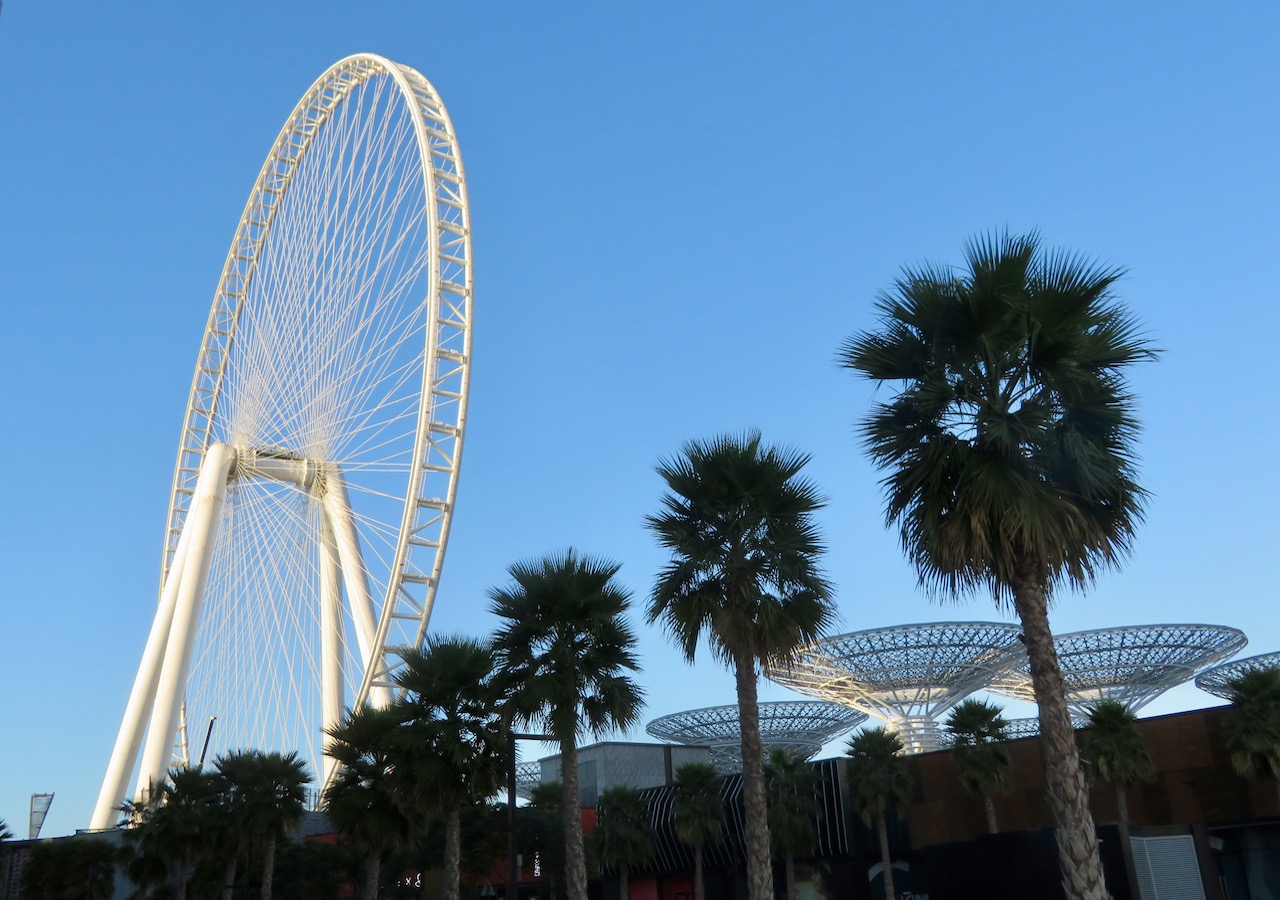 Wheel with trees  
5) Dubai Water Canal
WE HATED this project from the first time we heard about it, as it involved slicing off a large chunk of the much-loved Safa Park.
During our years in Dubai this area next to Sheikh Zayed Road was popular with expats and locals who used the running track that surrounded it, and families and domestic maids on their day off who loved the wide, green spaces.
Nevertheless, we have to admit that the canal is an impressive engineering achievement. It extends from the upper stretches of Dubai Creek and runs past the skyscrapers of Business Bay before cutting through the villa-land of Jumeirah down to the Gulf.
Its creation turned a large part of central Dubai into an island, and a number of bridges had to be built to carry major roads over it.
We walked along the canal-side path from Downtown, through Business Bay towards Sheikh Zayed Road, and not for the first time found ourselves asking, why? Business Bay has always been a big why? for us, as we don't understand what businesses its many towers are meant to attract.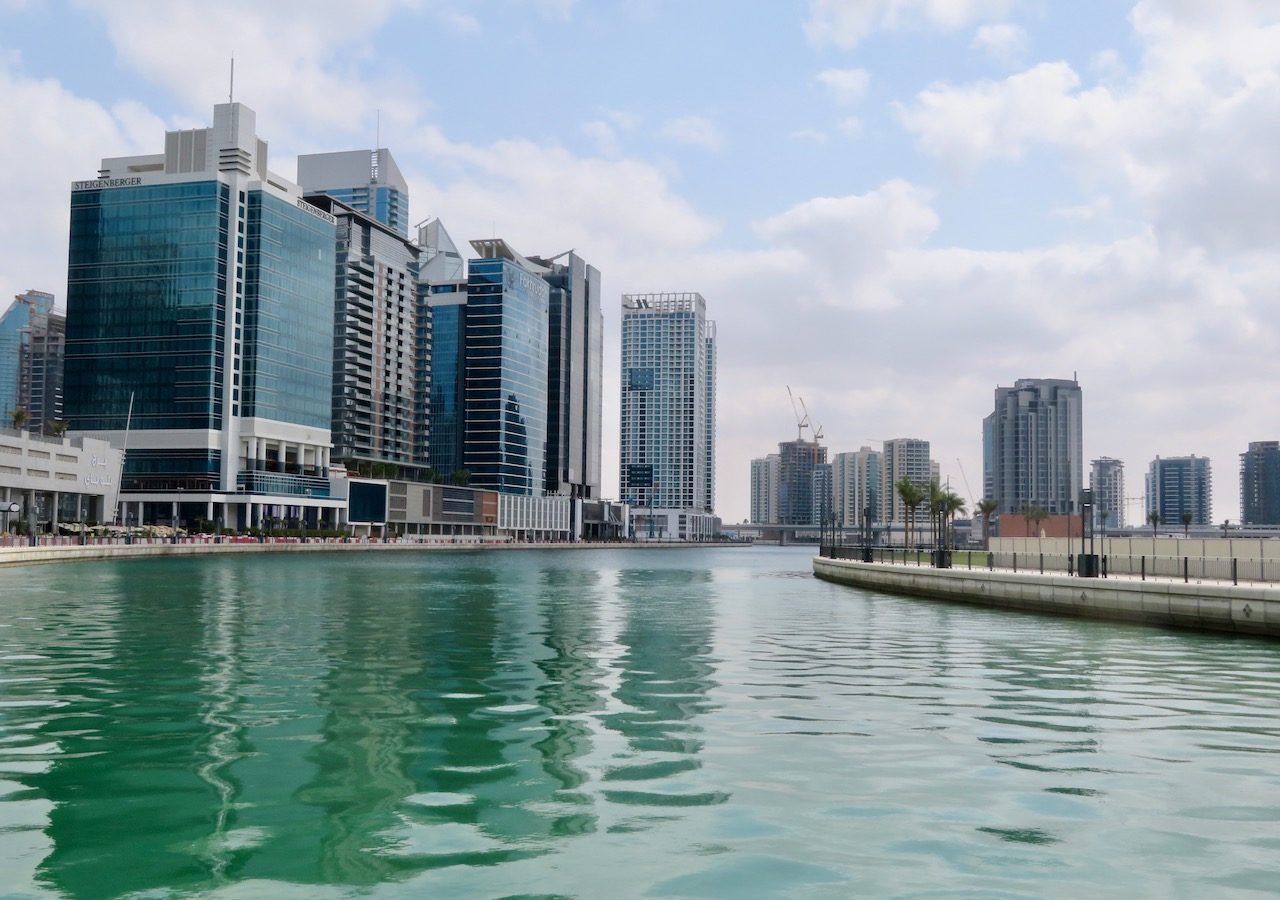 I see no ships
6) Dubai Opera
This is a welcome addition to the entertainment offerings in a city that was once something of a cultural desert. It's located in Downtown Dubai, an area already bursting with things to do.
There's the Burj Khalifa, the Dubai Fountain, the vast Dubai Mall with its zillion shops, cinema and ice rink, and numerous dining options. Unusually for Dubai, all the attractions are within walking distance of each other.
The opera house is a fine new building shaped like a dhow – a traditional Arab sailing vessel – that stands on the side of an artificial lake. It's a multi-purpose facility that can be set up as either a theatre, a concert hall or an event venue – when we were there a graduation ceremony was going on. Developer Emaar hopes it will become as iconic as Sydney Opera House. Tours of the building and the backstage areas are available.
Verdict: Excellent venue offering an eclectic entertainment mix.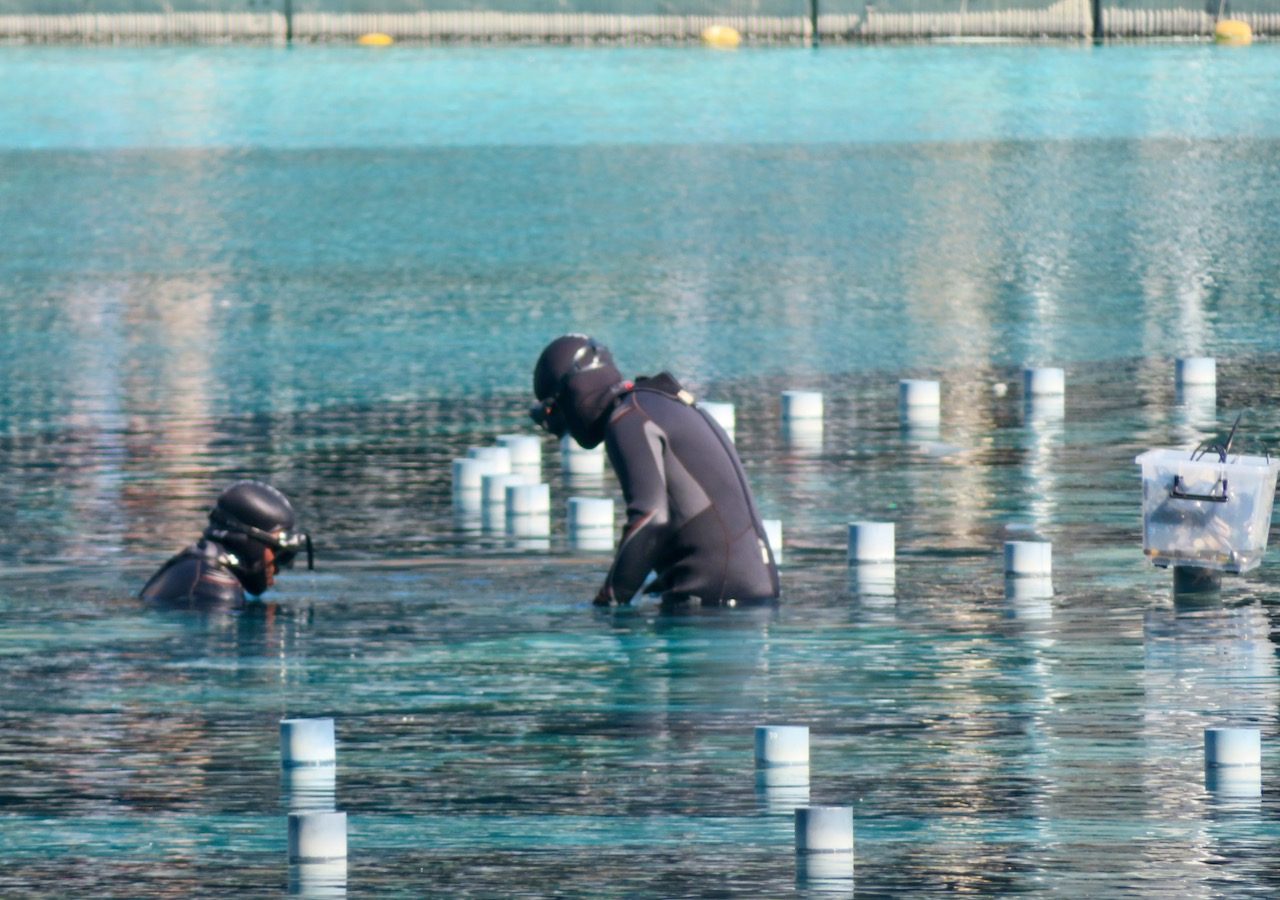 Servicing the Dubai Fountain
7) Dhow and Anchor
THE Dhow and Anchor is a British-style pub in the Jumeirah Beach Hotel that has long been popular with guests, expats and even a few locals.
It had a comfortable bar with TVs showing sport, a rather dull dining room – too much dark wood for my taste – and an outside area with spectacular views of the Burj Al Arab hotel. We used to live nearby and the Dhow was our local bar, so we thought we'd take a trip down memory lane during our week in Dubai.
The hotel – a striking landmark shaped like a giant wave – also had a less popular German bar and restaurant, Der Keller, on the first floor. We decided to take a look at it first, and were surprised to find it had closed.
Returning to the ground floor, we made our way to the Dhow, and everything became clear. The pub had been completely refurbished and remodelled with tasteful, muted tones and a much more modern look than before. Der Keller had been converted into an upstairs extension, and the outdoor area had been rearranged – though it still offered dazzling views of the Burj light show.
It was a reminder of one aspect of expat life – as soon as you leave somewhere, particularly a city as fast-changing as Dubai, it ceases to be the place you remember living in.
The menu had some old favourites such as a roast of the day and "fish 'n' chips", but overall seemed a bit healthier than before, with salads available in large and small sizes.
The trendy practice of abbreviating the name of a place has been adopted, as the pub is now branded as D&A. The revamped bar had opened only a few days before our visit, and the upstairs section was not yet in use, though I went up to have a look. No trace of Der Keller's distinctive red-brick look remained.
We liked the new Dhow, while retaining happy memories of our visits back in the day. Incidentally, its restrained tones can also be seen in other parts of what was previously an almost luridly colourful and hotel. It's as if the property has matured into middle age and put away the bright flamboyance of its early years.
Verdict: Successful refurbishment means it's likely to remain popular.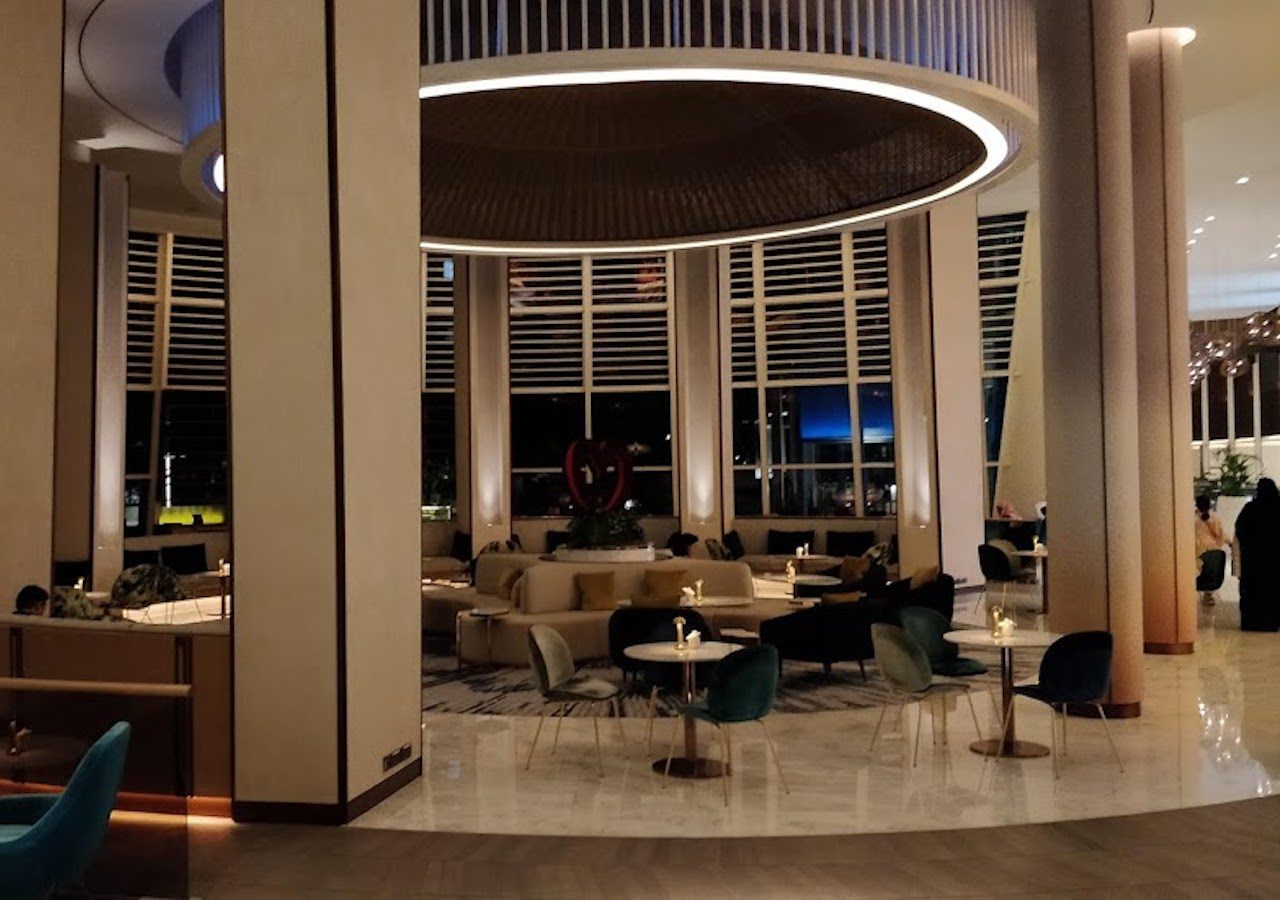 JBH's new more demure look
8) Dinosaur Park
ZABEEL PARK used to be a quiet, sleepy part of town, which was a large part of its appeal.

Things have been livening up, though, as in addition to the Dubai Frame it also now has a dinosaur attraction, with more than 120 life-size animatronic models.
The impressive replicas look pretty life-like, and this is a real treat for anyone who loves dinosaurs – which, of course, includes most of us. Signs warn that some of the fierce-looking creatures are held behind high 10,000-volt fences.
Next to the Dinosaur Park is another attraction, Glow Park. This has lots of garden displays made from lights. Young kids might like it, but it's probably something of an acquired taste. Because this is a night-time sight, the area of the park that contains it and the Dinosaur Park does not open until 4 pm.
Verdict: Dinosaurs are always fun, and this is a pretty impressive display.


Models are huge
9) Dubai Mall Zabeel
WHEN is a mall not a mall? In Dubai, the answer is when it's a car park. An extension to the enormous Dubai Mall opened recently with all the usual hoopla.
The Dubai Mall Zabeel has a vast, glitzy facade that stretches endlessly alongside one of the city's massive elevated highways. Huge signs lead shoppers to it across an elevated walkway from the main mall. Yet when you get there you find, well, not much at all.
Of the eight stories, seven are for parking. When fully opened, the single retail floor will have 63 shops, which is nothing by Dubai standards – the Dubai Mall has 1,300. So why promote it as a mall extension when it's really a car park? This is typical of the way Dubai relentlessly bigs up everything it does.
There's a French supermarket called Grandiose, a Krispy Kreme outlet, a food court, and a gym. Finding little of interest, we followed signs to the taxi rank on one of the parking floors only to find that there were no cars.
Making our way back across the 200-metre walkway, we examined some of the rather inexplicable objects displayed there, which included a giant shiny pink teddy bear and a platoon of stormtroopers lined up behind Darth Vader.
Verdict: World's glitziest car park.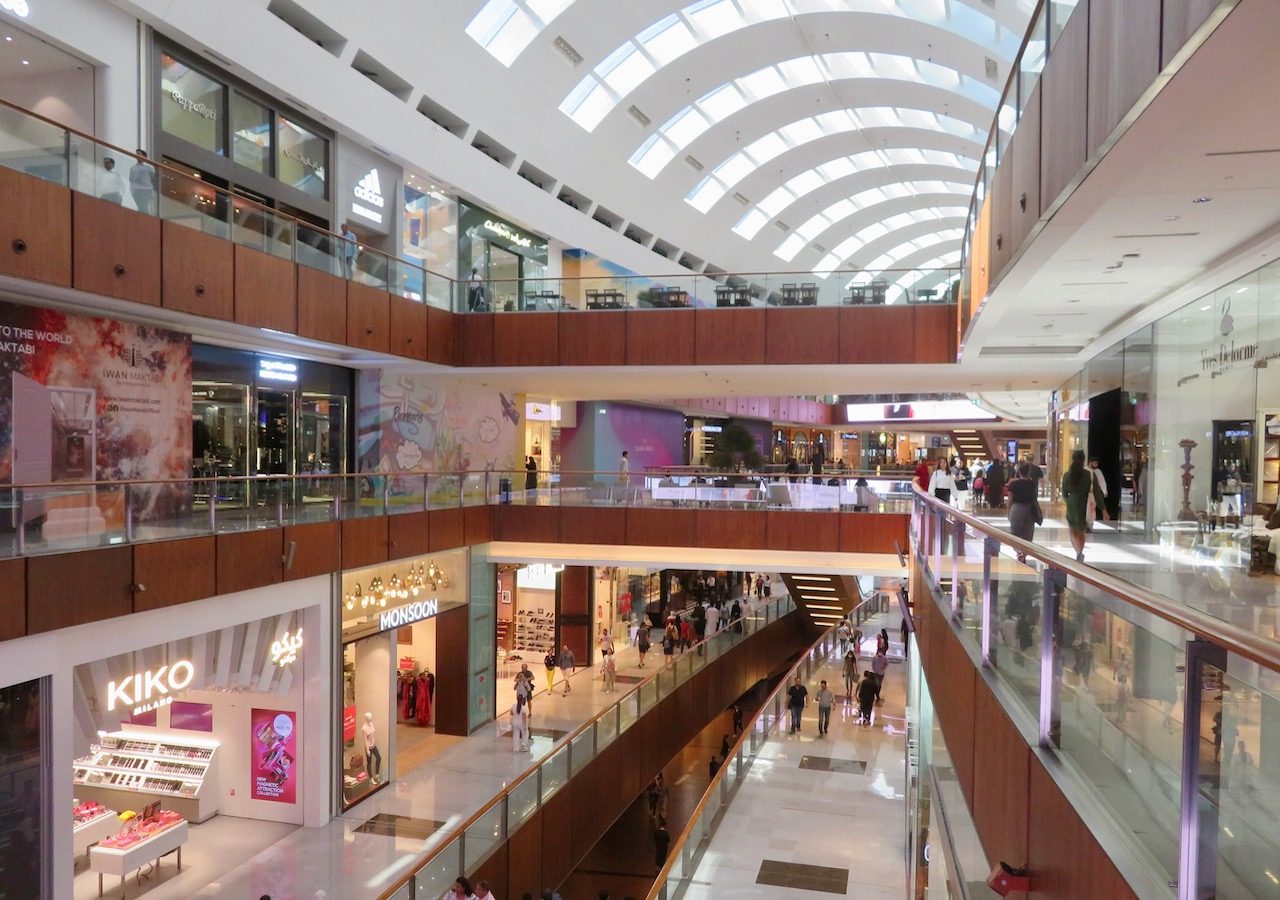 Part of the main mall
10) The Museum of the Future
FOR some time a distinctive new building has been taking shape on a prime stretch of Sheikh Zayed Road. The Museum of the Future, due to open in this year, will showcase science, technology and innovation.

Museum of the Future


According to its website, "The Museum of the Future invites you to look beyond the present and take your place within possible worlds to come… We are dedicated to critically exploring the threats and opportunities of our time and hope that you will join us in conceiving a better future for ourselves and our planet."
The outside of the building is emblazoned with lines of poetry by Sheikh Mohammed written in Arabic calligraphy. It's curious how many attractions in Dubai are used to promote the ruling family. The Dubai Frame, for example, has words of wisdom by Sheikh Mohammed projected on interior walls, while visitors to Dubai Museum learn about the history of his family.
The new museum is part of an emphasis on the future that has sprung up in Dubai. The frame, as mentioned, has a section devoted to the future, while an important federal body has been renamed the Ministry of Cabinet Affairs and the Future. The establishment of a Dubai Future District was announced by Sheikh Mohammed on Twitter last month.
The building is certainly striking, though for me it's another example of the lack of urban planning in Dubai. It makes the surrounding area seem cluttered, and partially obscures views of the soaring Emirates Towers, twin skyscrapers that really stand out among the city's many cookie-cutter glass-clad towers.
Museum architect Shaun Killa said: "The solid element of the building symbolises what we know today representing what we know to be the future, and the void represents what we don't know."
Verdict: Disappointing location.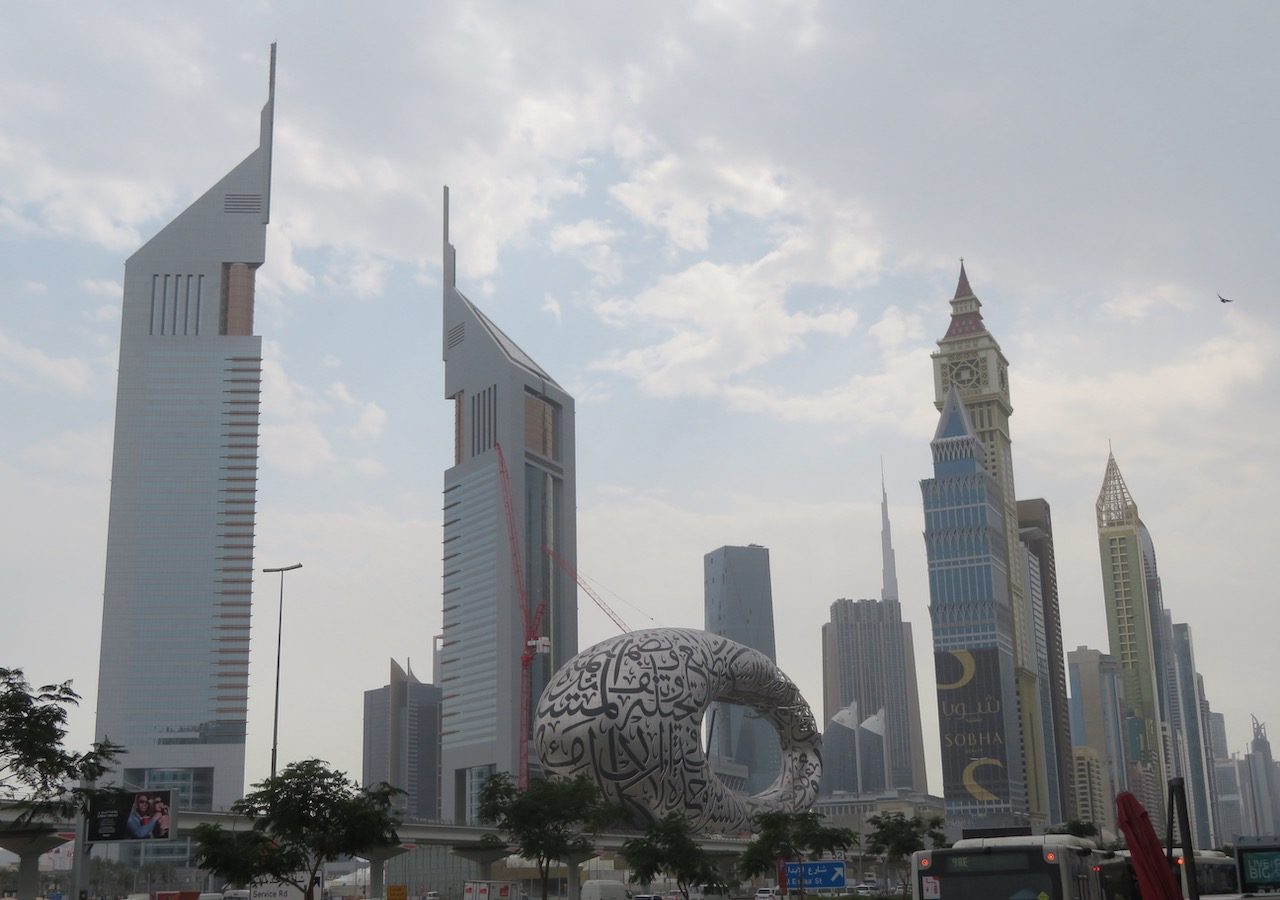 Sheikh Zayed Road site