Wake, Breakfast, Beach, Supper, Sleep, Repeat
May 9, 2020
WE liked Sanur so much we went back two years later and did it all over again. The town is just the right size, the beach is beautiful and goes on forever, there is lots of diving to keep Colin happy, and I spent days staring at the sea from the comfort of a lounger.

We'll write about the hotel we chose in a separate post, but it did set the pace for an uncharacteristically lazy holiday on both visits and I wouldn't be surprised if we return sometime in the future.
The town itself is delightful; it's about 30 minutes by car from the airport at Denpasar, it's busy but not hectic, and very easy to walk around. The streets are full of restaurants and small bars, tourist shops selling handicrafts and clothes, Hindu temples and diving schools. It really does feel like a holiday resort, which is what President Sukarno envisaged when he built the Bali Beach Hotel here in 1963 to kickstart the Indonesian tourist industry.

I wonder what he would make of what's going on at the hotel this year? Currently known as the Grand Inna Beach Hotel, a four-year building project will add several new hotels totalling 1,000 rooms, 73 villas (including a presidential one), a convention centre catering for up to 10,000 people, an eco-park, helipad and pier. It gets a new name, too: the Kawasan Hotel Indonesia Bali. Sukarno's vision of Bali as Indonesia's tourist hotspot has certainly come true; tourism accounts for 80 per cent of Bali's income, so it's no good thinking you'll find a heavenly spot all to yourself. However, Sanur has managed to retain its character with the biggest hotels camouflaged behind acres of gardens that run down to the 5kms-long beach.


Loading the dive boat
There are things to do, and it's testament to the beauty of the beach that we've hardly done any of them! For example, there is an orchid garden nearby, and a turtle conservation centre. Colin has gone diving, of course, and I did a day's jewellery workshop at a pretty studio in the town. There is also a really pretty path the length of the beach, which makes for a great walk.


We also hired a car and driver for a day, which I would highly recommend since it gives you a flavour of the island. Our trip took in Ubud, with its famous monkey temple (which frankly gave me the creeps); the beautiful terraced rice paddies of Tegalalang (crowded); and Seminyak which, as well as being a really busy tourist town, is home to Potato Head Beach Club which makes a stellar espresso martini. As an added bonus, we also doubled the average age of all the guests.

The traffic going back to Sanur in the evening was amazingly heavy and we spent some time stuck in traffic jams, even though everywhere is fairly close by. Having said that, the roads are good and I think a rental car would be a great option.


Terraced rice paddies at Tegalalang
Every evening we went out to eat or have a drink, and our favourite spot was The Fire Station, a bistro and bar in the centre of town that's friendly, the food is good and unfussy, and it doesn't break the bank.


Talking of which, the currency is the rupiah and you can spend millions in a day. On the day we arrived I agonized for 15 minutes chosing between two bead necklaces, only to discover they cost about US$1.30 each.
All in all, Sanur is a good choice if what you want is a beach, sunshine (April-October is the dry season, but the weather is pretty good all year), a friendly atmosphere and somewhere to slow down for a week. We went back, which is as good a recommendation as you can get.
Top tip: Go to Hardy's supermarket in the main street for food, alcohol and souvenirs. The top floor is packed with classy local handicrafts and I kick myself for not buying more.
January 2020


Monkey temple in Ubud; Hindu god in Sanur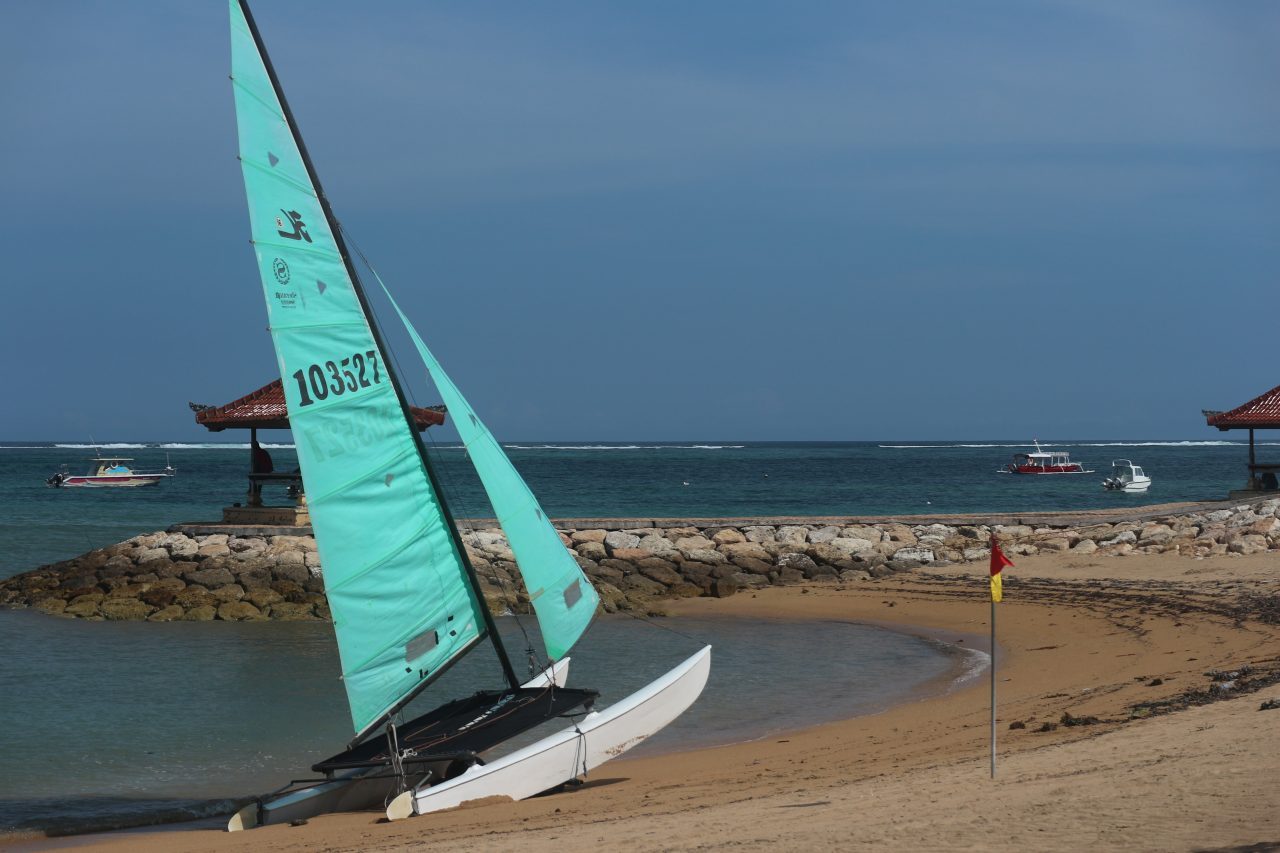 View from the lounger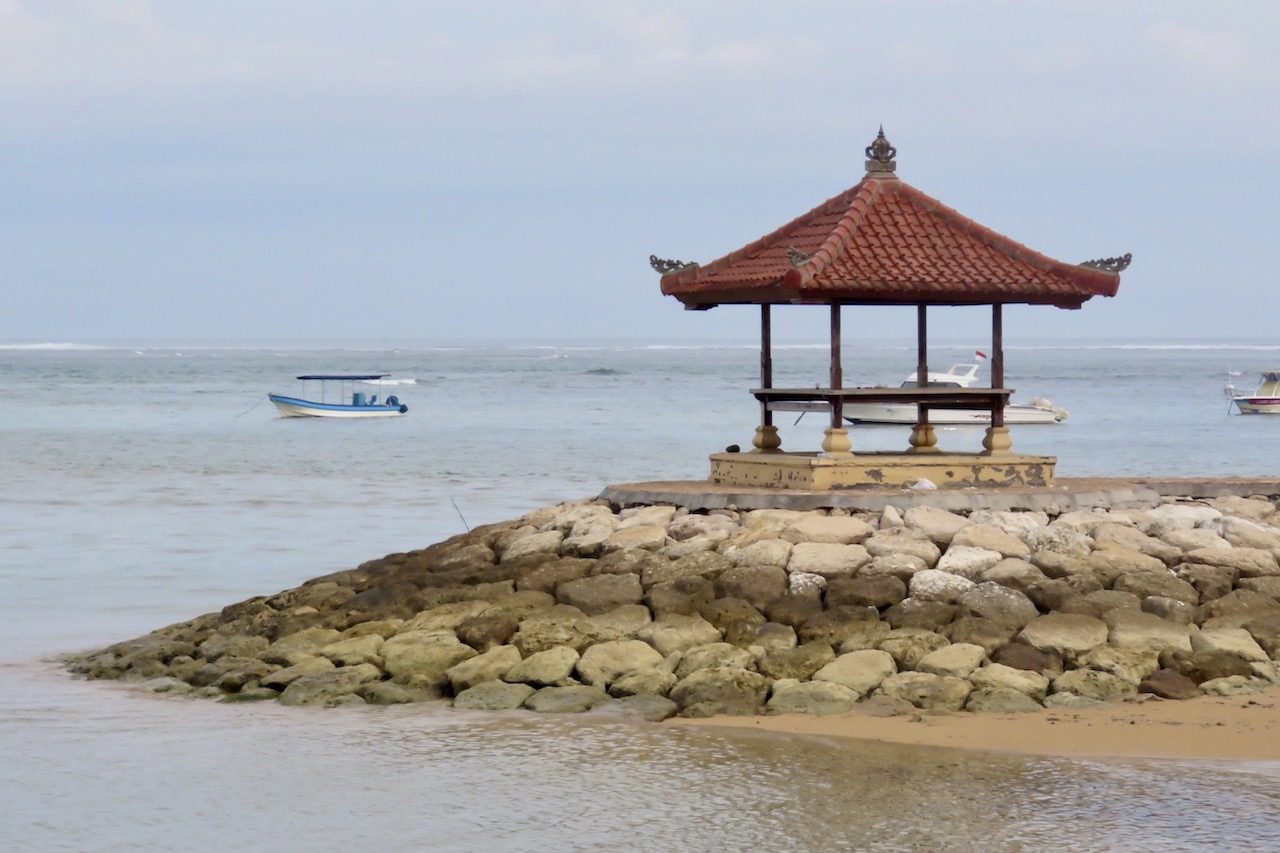 Sanur beach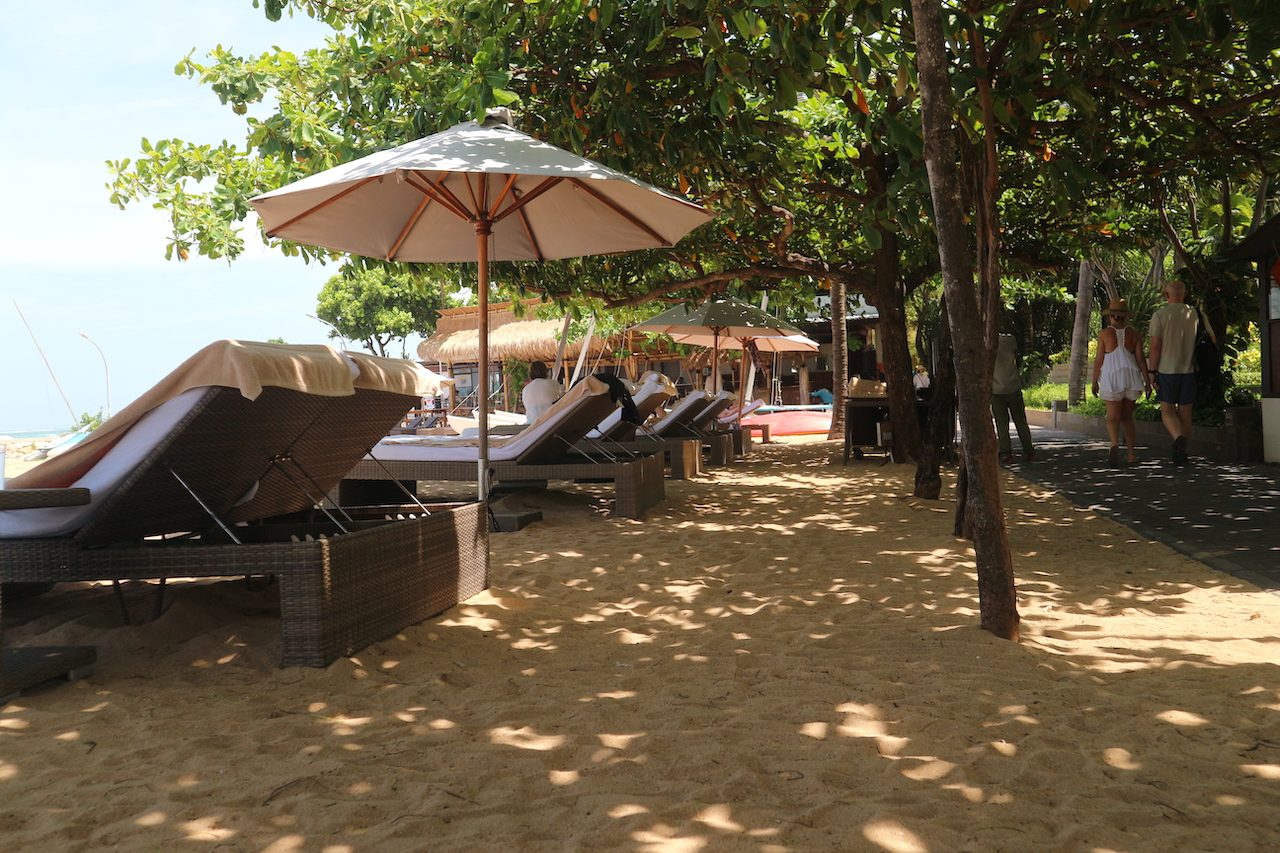 "Our" beach at Sanur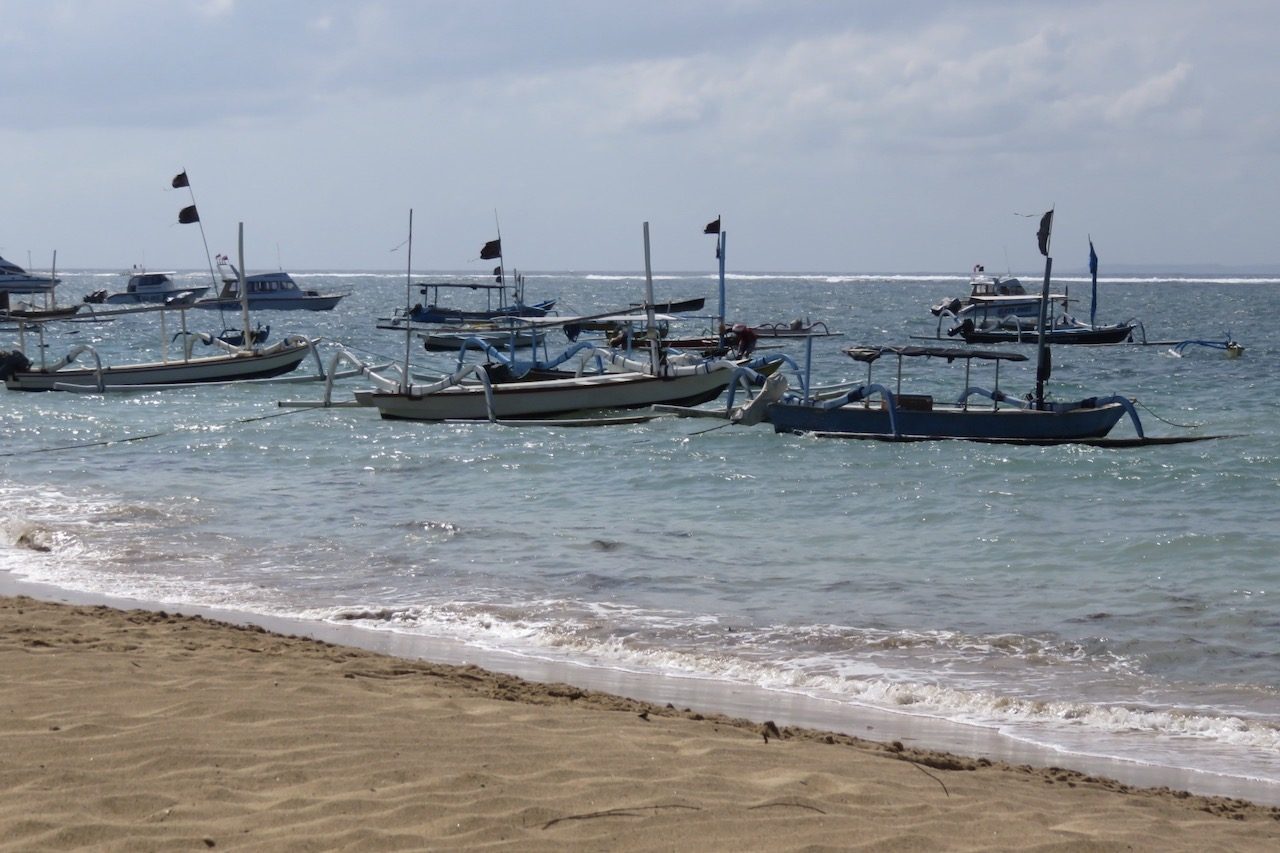 Local boats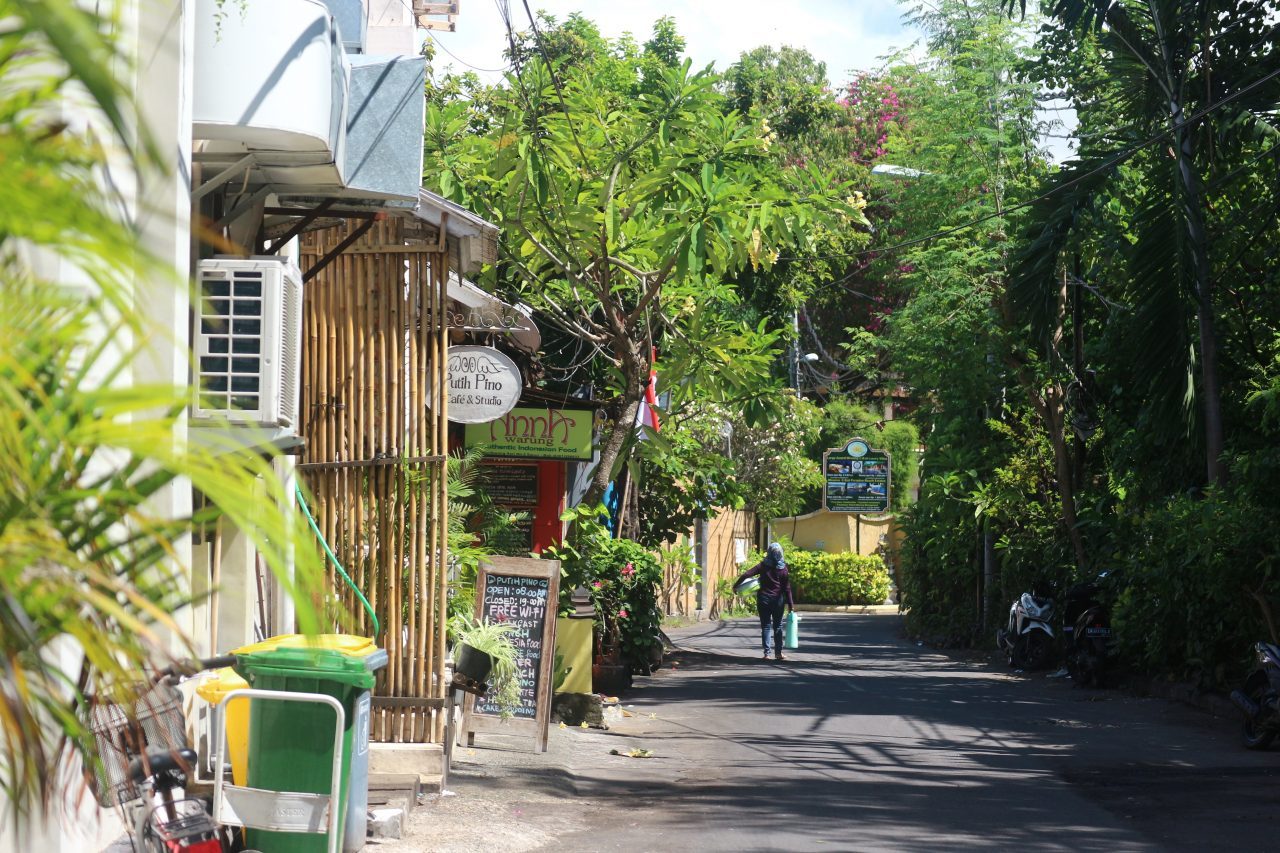 Sanur backstreet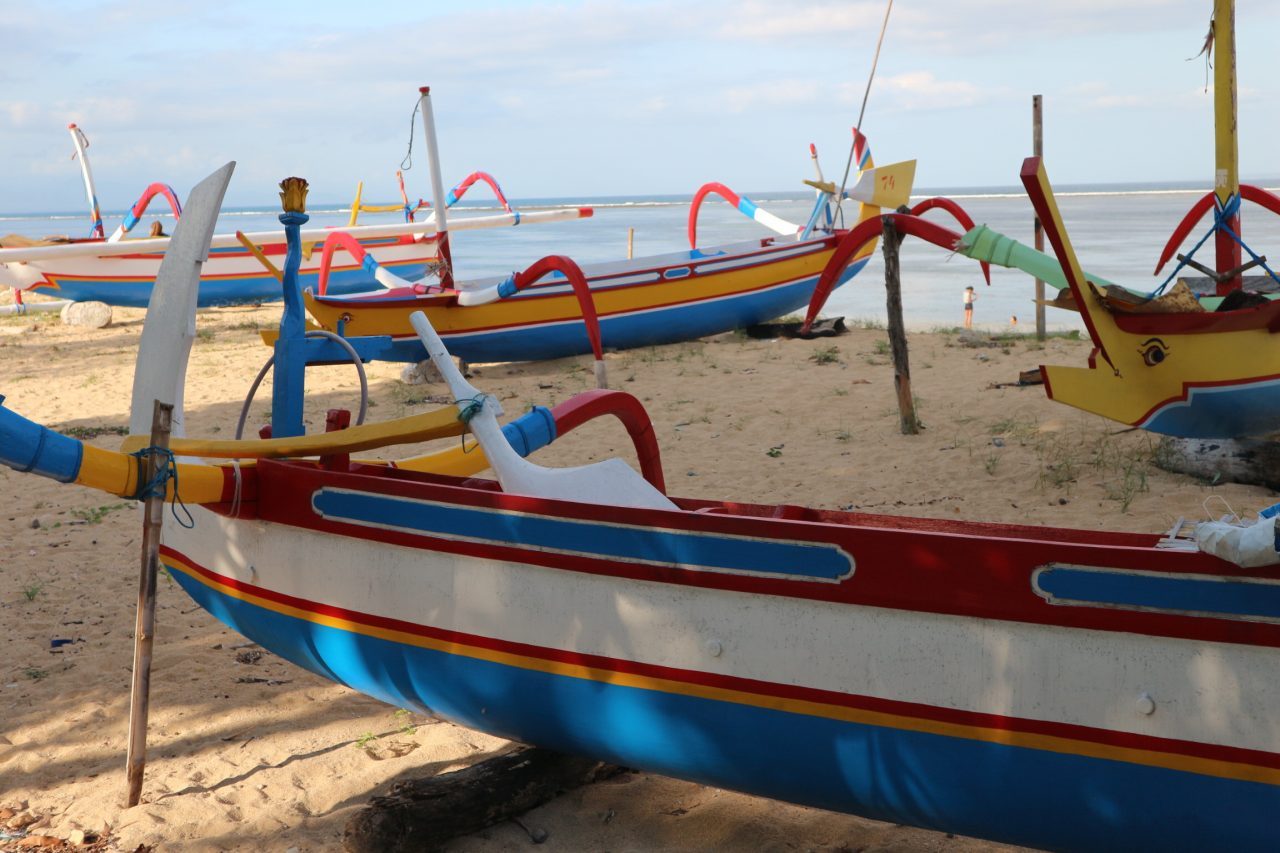 Distinctive local fishing boats copy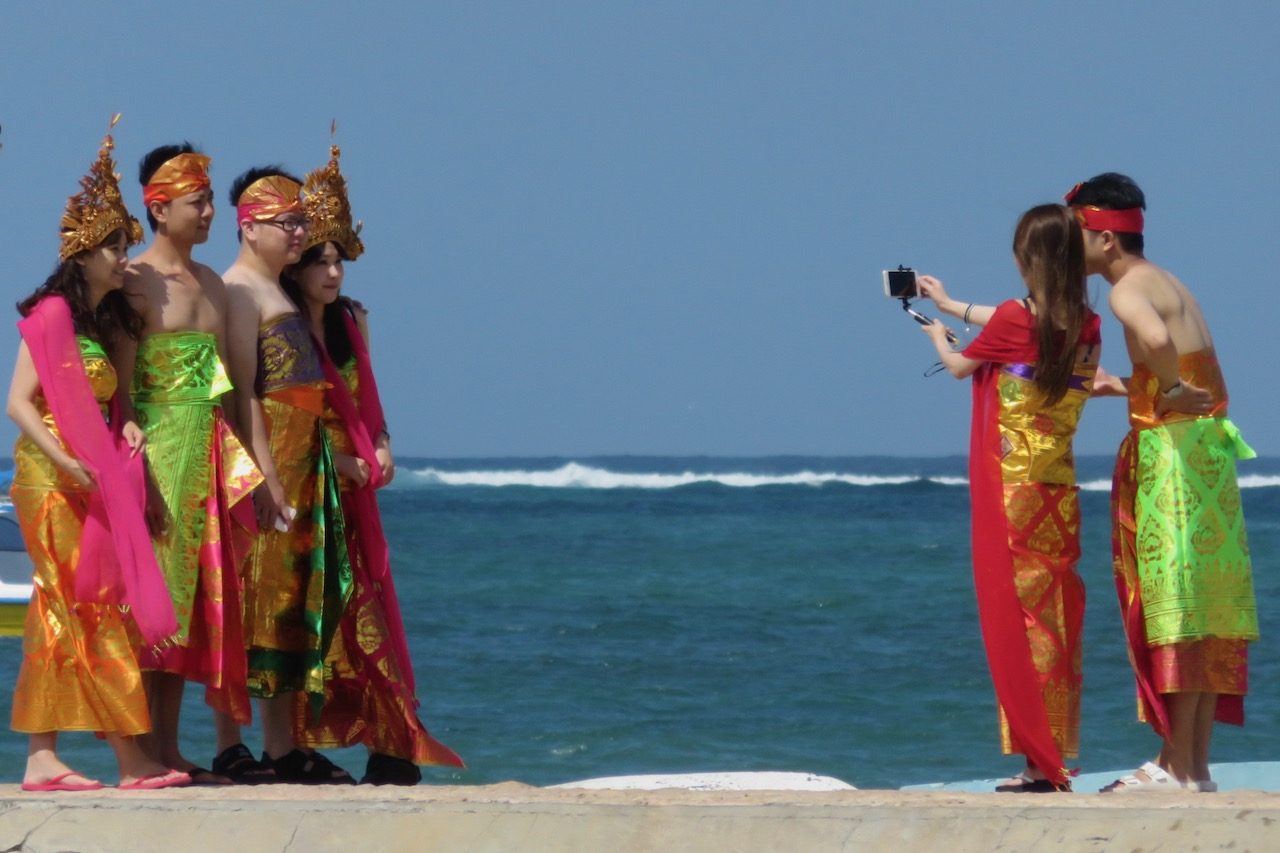 Colourful photo shoot on the beach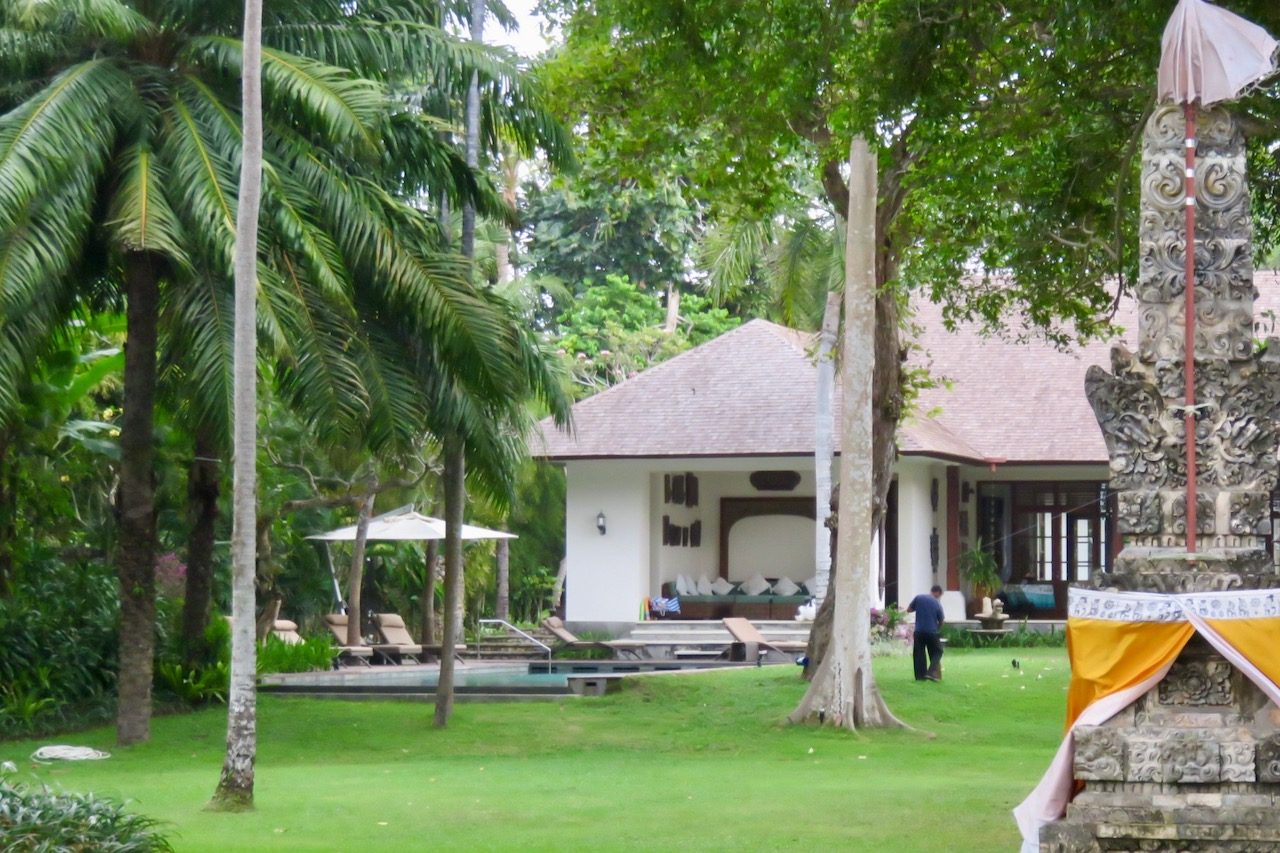 Grounds of a seafront boutique hotel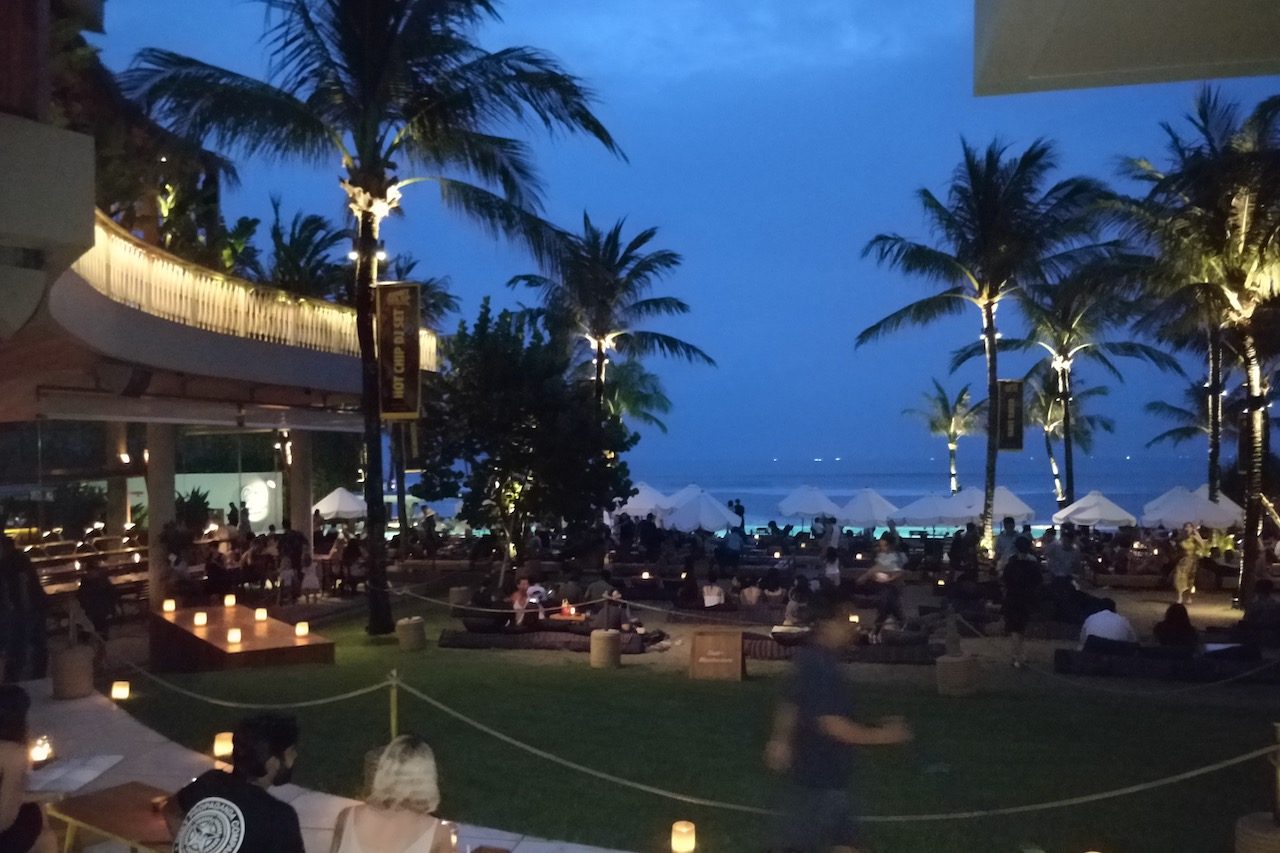 Potato Head Beach Club at Seminyak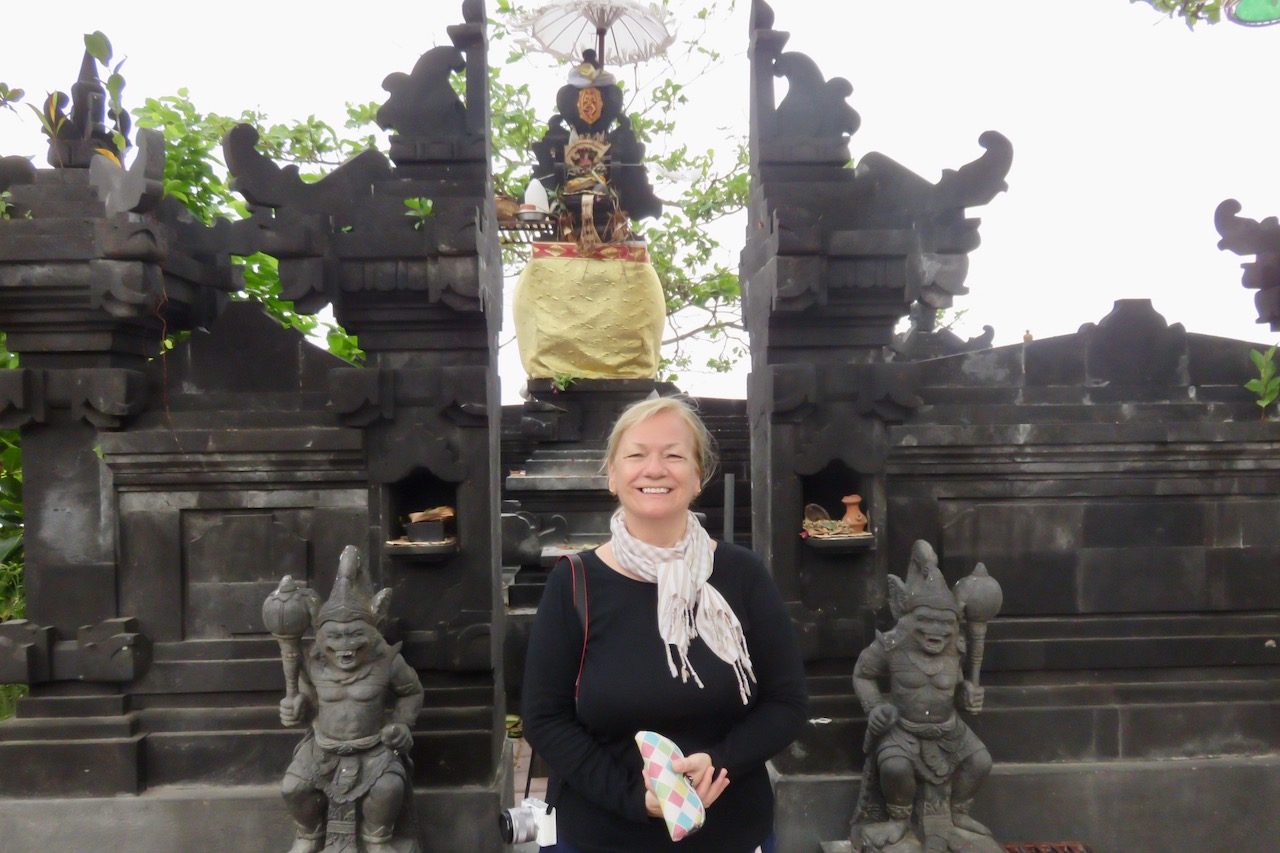 Sue at a temple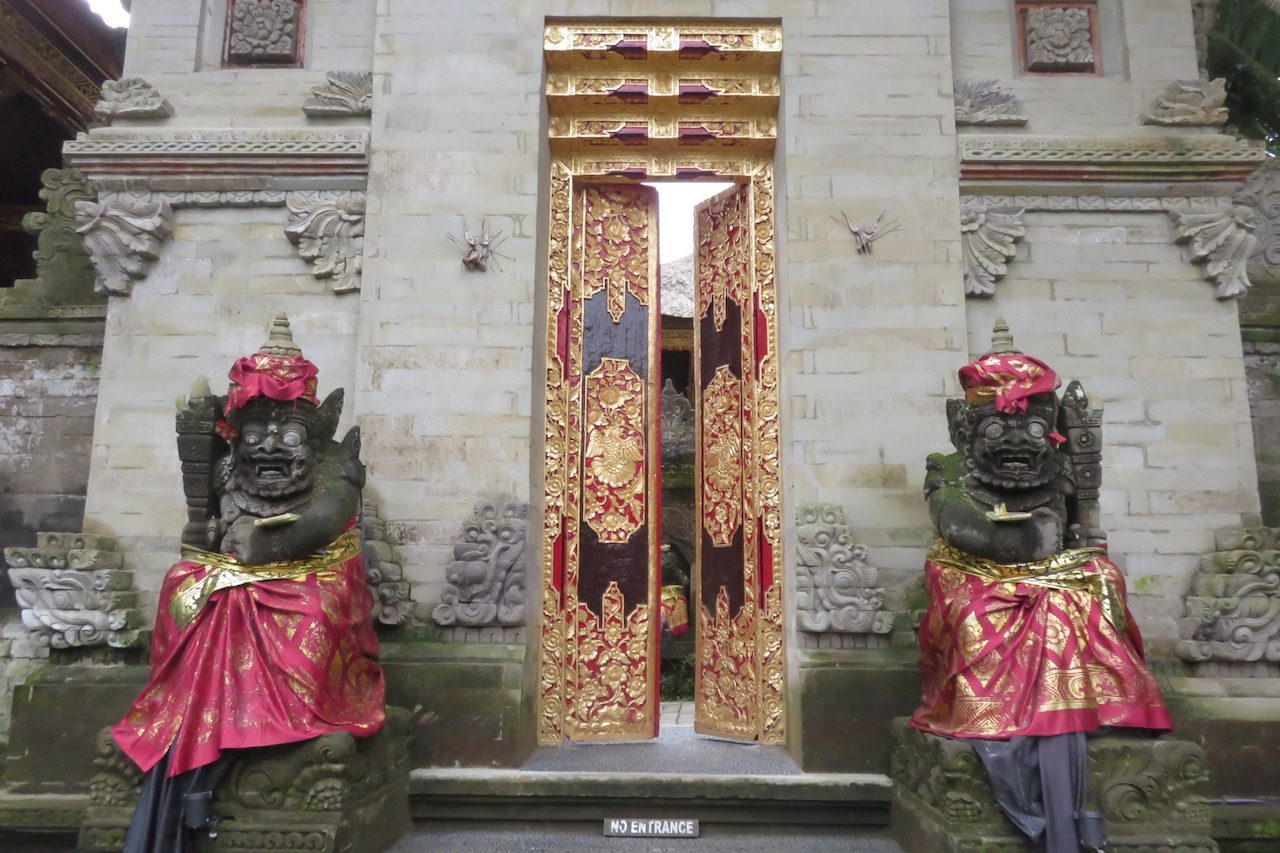 Temple at Ubud