10 Foods You Cannot Miss When In Southeast Asia
October 20, 2019
Before packing your bags for a trip across Southeast Asia, do make sure to note down these key delicacies to try when in these various countries! From the Philippines to Thailand, The Travel Pad has got you covered with 10 mouthwatering dishes that you cannot miss when travelling to Southeast Asia.
Pad Thai (Thailand) 
credit: AS Food studio/shutterstock.com
A national dish created as a result of the high costs needed for rice production, this Thai-style stir-fried rice noodles (Kway Teow Pad Thai) is one popular dish that is widely consumed around the country. Present in the Pad Thai is a mixture of varied ingredients, including rice noodles, prawns, egg, tofu, garlic and fish sauce. These ingredients are then cooked on a hot charcoal stove with an iron wok, where the chef engages in an intense stir-frying session to mix the multiple flavours together, concocting a taste and smell so unique and flavorful that it's impossible to miss when you're in Thailand.
Banh Mi (Vietnam)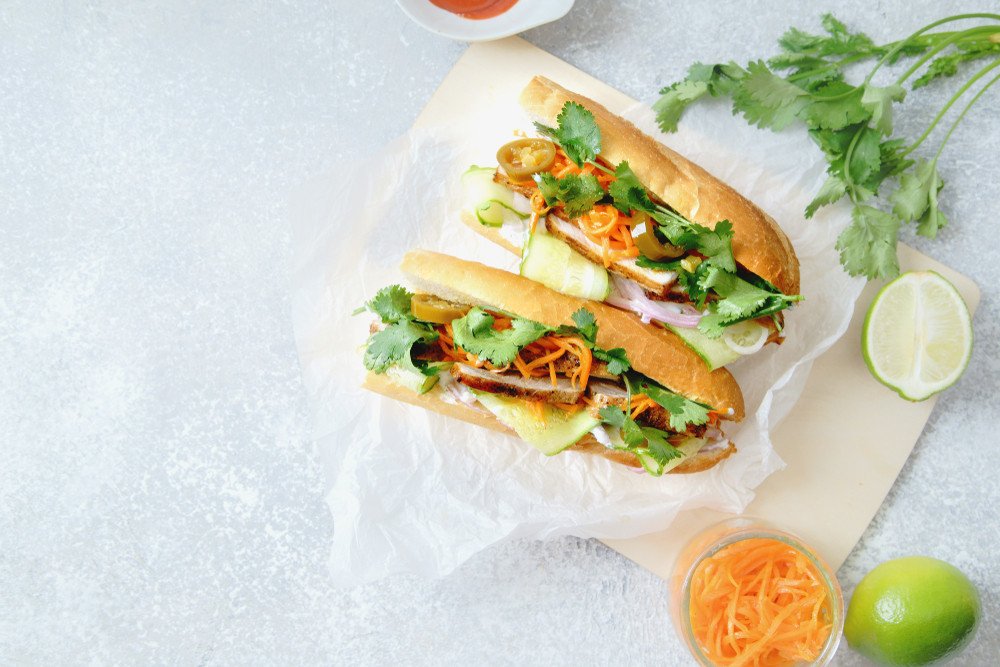 credit: Asya Nurullina/shutterstock.com
The Banh mi is the epitome of multiculturalism. Despite being a simple sandwich, the origin of this dish is marked with historical significance, with its ingredients originating from different parts of the world. Wrapped with a French baguette (introduced to Vietnam during French colonialism), this popular breakfast dish includes finely chopped carrot, cilantro and cucumber, as well as a variation of protein, from sweet minced pork to American hamburger meat. While some prefer to eat it together with mayonnaise, Vietnamese will instead recommend you to eat it together with Chin-Su, a sweet-tasting chilli sauce that is both affordable and distinctive in its flavour.
Hainanese Chicken Rice (Singapore, Malaysia)
credit: Showcake/shutterstock.com
A must-have when in Singapore and Malaysia, this dish consists of succulent steamed white chicken cut into bite-size pieces that is served on rice coated with chicken fat and broth. Topped with springs of coriander leaf and sesame oil, this dish is further complemented by a garlic-chilli dip, an unmissable side when having this delicacy. In some parts of Malaysia, rice is instead compacted into balls with bare hands, and cooked with pandan leaves and ginger slices over a controlled fire. Known as a national dish of Singapore, many visitors over the world tend to flock to chicken rice stalls upon touching down in Singapore.
Adobo (Philippines)
credit: AS Food studio/shutterstock.com
Like many countries based in warm climates, Filipino natives designed various distinct methods to preserve food, of which Adobo takes the cake for being one such delicacy that thrives under prolonged preservation. Utilizing the acid in the vinegar and high salt content of soy sauce to ensure the freshness of the food, the Adobo can be prepared with either meat, seafood or vegetables. In this sense, while the Philippine adobo can be paralleled to the Spanish adobo (referring a marinated dish), the Philippine usage is more centred on the cooking process rather than the types of meat included.
Chendol (Malaysia)
credit: ThamKC/shutterstock.com
A signature dish of Malaysia, this shaved ice and coconut milk dessert is a definite must-try when travelling to the nation. Topped with neon green squiggles of pandan jelly, red beans and palm sugar (gula melaka), the dessert has gained traction in many parts of Malaysia, from those being sold by pushcart owners littered along the streets to the ones sold in high-end restaurants. An indiscriminate dessert that suits the palate of all ages and echelons, the Chendol is a dish that provides an icy respite amidst the unforgiving heat experienced in Malaysia all year long.
Sai Oo-ah (Laos)
credit: Anna Ewa Bieniek/shutterstock.com
Also known as Laotian sausage, this dish is markedly different from the other Western sausages we have in the market. A pork sausage stuffed with cilantro, lemongrass, shallots, fish sauce and galangal, the sausages is left to dry for a few days to allow the meat to ferment. One other variant of this dish includes the addition of Lao sticky rice in the filling, which gives it a sour taste after being left at room temperature for a couple of days.
Fish Amok (Cambodia)
credit: Sakadaphoto/shutterstock.com
When it comes to Khmer food, the Fish Amok is one dish that travellers should never leave without trying. Known as traditional steamed fish curry, this cuisine cannot be prepared plainly without cooking up a storm. While made with simple ingredients such as catfish, coconut sauce, fish sauce and palm sugar, coupled with spices such as lemongrass and turmeric, the Fish Amok has to be prepared and steamed for hours. Instead of gravitating towards premade curry paste, locals would very much prefer to do so by making this paste from scratch to give the Amok the authentic taste it deserves.
Lahpet Thoke (Burma)
credit: Orientalprincess/shutterstock.com
Lahpet, which means "green tea", and thoke, which means "salad", is known for its eclectic mixture of healthy ingredients. Like many of the Southeast Asian dishes, this salad is also packed with much historical importance - in ancient times, fermented tea leaves were used as peace offerings between kingdoms at war. Today, it is instead served as a final course at the end of a meal, where individuals can choose to customize their salad according to their own preferences. Main ingredients in this dish include fermented tea leaves, sesame seeds, dried shrimp, fish sauce, sesame seeds, garlic and tomato. The ingredients are then mixed together with lime and garlic oil to create a scrumptious salad. Who knew healthy and tasty dishes like the Lahpet Thoke could be prepared in such a simple fashion!
Bak Kut Teh (Singapore, Malaysia)
credit: Sirisak Chantorn/shutterstock.com
Like its flavour, this pork ribs soup that originated from China's Fujian Province is equally rich when it comes to its historical importance. Included in this dish is a series of fragrant herbs and spices (star anise, cinnamon, cloves, dang gui and garlic), as well as a copious amount of pork ribs or offal. Packed with a punch, the seemingly normal-looking dark brown coloured soup is a hot favourite amongst many Chinese due to its robust taste. While the Teochews tend to prefer their Bak Kut Teh to be lighter in appearance and more peppery in taste, the Hokkien people instead prefer their soup to be thick and strongly scented. An indigenous dish that evolves with the needs of its people, the Bak Kut Teh is definitely an indispensable dish when visiting Southeast Asia. 
Nasi Goreng (Indonesia)
credit: Ariyani Tedjo/shutterstock.com
Commonly known as Indonesian stir-fried rice, Nasi Goreng has been voted by CNN Travel readers as one of the world's 50 most delicious foods. Due to the pliant taste of the dish, which should at the minimum include eggs, belacan, kecap manis (Indonesian sweetened soy sauce), shallots and garlic, this dish is replicated and consistently innovated by chefs around the nation through the inclusion of different proteins and sides. A few popular variants include Nasi Goreng Seafood, Nasi Goreng Tomyam (fried rice cooked in tom yum soup paste), Nasi Goreng Ayam (fried rice served with crispy fried chicken) and Nasi Goreng Nenas (fried rice cooked with pineapples). When it comes to inventiveness, Indonesians are certainly doing it right with their myriad of Nasi Goreng dishes.
Other articles you may be interested in: