Gimmick Or Game-Changer: Alex Talks Questo, A Real-Life Exploration Game
October 19, 2019
For our thrill-seeking and spontaneous travellers out there, we got an application for you. 
Meet co-founder Alex and his game, Questo. A real-life exploration game which offers mission-like tours for travellers seeking for unique adventures, Questo is made for those tired of travel itineraries that repeatedly preach the same few destinations. While some may find this concept gimmicky, Questo has in fact gained traction in multiple cities around the world, such as Rome and Paris, and has attracted many seasoned travellers to take on the path less travelled, to simply explore unusual routes and uncover certain localities. 
The Travel Pad talks to Alex to know more about him and the ideation behind Questo. 
Tell us more about yourself!
I'm the CEO and Co-founder of Questo, a mobile game for city exploration. I was born in the Transylvanian city of Sibiu in Romania and have a degree in management and marketing.
During my childhood I was building Lego cities all day long, while my favourite book was the Atlas. So, working on a product which transforms cities into playgrounds for travellers and locals appears to be the inevitable choice for me! 
Tell us what Questo is about, and what is the goal of the application? 
Questo is a mobile app for city exploration games. With us, people play quests in order to discover new places and stories by following clues and doing challenges.
Every quest is created by a local storyteller who uses our dedicated web platform for creators. In return, these creators receive a 20% share revenue for every quest that we sell together. Currently, we have more than 100 quests available in 45 cities across Europe.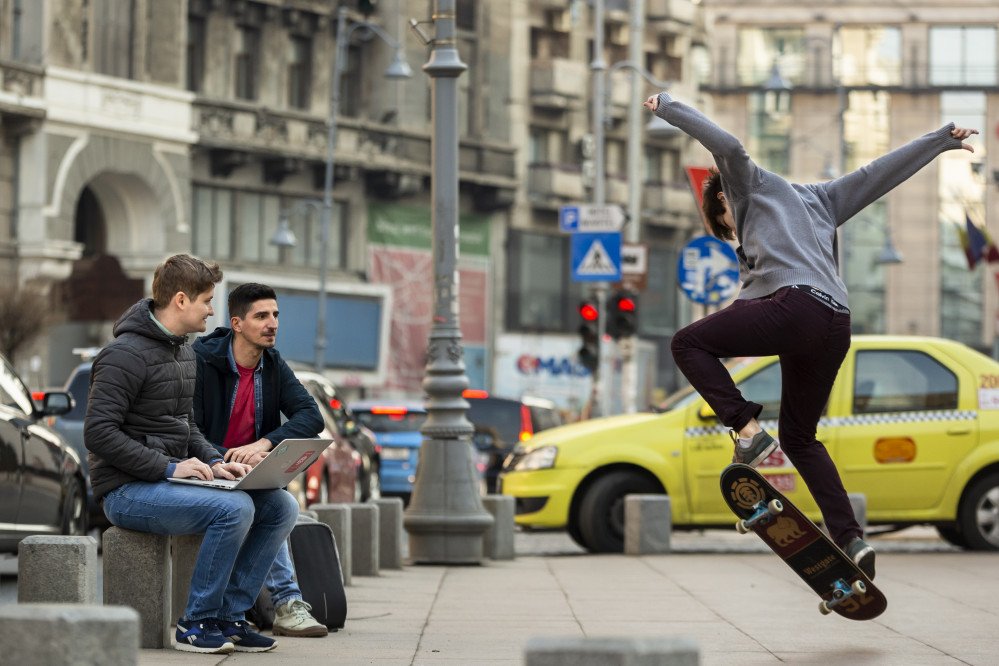 What inspired the development of Questo?
3 years ago, I was travelling through Rome visiting the most popular places there. After a few days of doing that, I felt like the experience wasn't as great as I had imagined. The attractions were crowded and the expenses around these locations were very expensive. Likewise, the local flavour appears to be missing as you could hardly meet any locals around.
As a result, I asked my host for some 'local' tips and he recommended me to head to Trastevere, a less popular neighbourhood in Rome and the mission was to simply get lost on the streets. I did so and I received a completely different experience from before. I was now walking on some very narrow streets, hearing Italians speak and ended up having the best pizza of my life. Then, I texted Claudiu, my current co-founder to share with him my experience and so, Questo happened. 
What unseen opportunities did you see in the travel industry that propelled your start-up?
The tours and activities market in the travel industry is growing quickly at the moment, but the space hasn't seen any important innovation since the audio guide many years ago.
Since then, the traveller profiles have changed. Currently, there exist many millennials and younger travellers who are looking for memorable experiences when they travel, not just for a checklist of tourist traps. At the same time, this tech-savvy generation is also constantly on the look-out for budget friendly options, and for plans that offer flexibility and privacy. Herein enters Questo and other real-world games, which helps to meet the needs of these travellers through a fun and exciting manner. 
An industry prone to technology disruptions, why do you think Questo is able to sustain and succeed in the travel domain?
Since our launch two years ago, we have tested a lot and gathered feedback from thousands of players. Therefore, we now know better how to build a product that caters to the wants and needs of our target audience.
At the same time, our team is very diverse and our members are well equipped with complementary skill sets, so I'm certain that we have what it takes to win.
What was the biggest hurdle you have encountered thus far and how has it affected the way you manage Questo?
I believe that at this stage, the dynamics of the team is the most important factor for the growth of the company.
In this regard, finding the right people to join Questo was hard because it took some time, but in the end, it was totally worth it. You should never compromise on the composition and culture of the team.
If you are not doing your startup, what would you be doing?
I would've been either a teacher or a methorologist! 
Name one person who inspires you and tell us why and how he/she inspires you!
I'm a big fan of Richard Feynman. I love his clear way of thinking and view about life.
His learning theory is something I use every time.
Where do you think Questo's growth will be in the next 5 years?
We will probably expand to over 1000 cities across the world, transforming every exploration of new places into a game. 
One advice you would give to your younger self.
Move fast and break things and always do the magic three: eat, sleep and exercise.
Check out Questo's video and producthunt page! 
All pictures courtesy of Alex. 
Other articles you may be interested in: